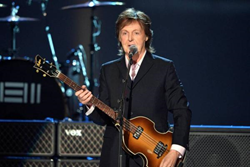 Denver, Colorado (PRWEB) July 01, 2014
To some, it may seem like only yesterday. Truth be told, it's been over 50 years since the mop topped lads from Liverpool invaded America: just over half a century since the boys set off Beatlemania with their first hit "Love Me Do" in 1962.
It was then that Paul McCartney, considered the "cute Beatle", along with boyhood chums George Harrison and John Lennon, and later Ringo Starr, suddenly became one of the most iconic and influential bands in rock and roll history.
Today, McCartney, now 71, is generally acknowledged to be the most successful recording artist of all time. Plus, he wrote and performed "Yesterday", the most covered single ever in the history of music, among his numerous other credits.
"After opening in Brazil last May, his ongoing global Out There tour went on to play Europe, North America twice and Japan in 2013. This year's edition opened in Uruguay in April with scheduled stops in Peru, Ecuador, Costa Rica, Japan and South Korea prior to McCartney's latest 20-city, 21-date North American run," said Marta Ault at online discount ticket marketplace BuyAnySeat.com.
"Unfortunately, some of these overseas stops had to be cancelled due to the artist's health issues and according to the latest reports, the artist is ready to tour again."
"And, of course, as anyone would expect, his concerts always sell out. That's why we're proud to offer fans the most complete and comprehensive selection of discount concert tickets online, along with a Worry-Free Guarantee to protect their purchase," added Ault.
"To access the complete selection of cheap Paul McCartney tickets we now have available, as well as all of the other seating options offered, customers can go to BuyAnySeat.com and search for Paul McCartney – then select their tickets."
As with previous tours, this year's effort will feature his band of over ten years, including Paul 'Wix' Wickens on keyboards, Rusty Anderson on guitar, Abe Laboriel Jr. on drums and Brian Ray on bass and guitar. Plus, of course, fans can expect material from one of the most beloved catalogs in popular music, with Paul performing songs spanning his entire career - as a solo artist, member of Wings and, of course, The Beatles.
McCartney's latest road trip also extends a streak of annual tours that goes back to 2009, when he broke a four-year road absence with his 10-date Summer Live tour. It was followed by Good Evening Europe in 2010, the Up and Coming tour in 2010-11, and On the Run in 2011-12.
McCartney also plans to put the finishing touches on his first solo album since 2007′s Memory Almost Full. And, he is expected to release an expanded edition of his 1976 live album, Wings Over America.
Guinness World Records describes McCartney as the "most successful composer and recording artist of all time", with 60 gold discs and sales of over 100 million albums and 100 million singles. Inducted into the Rock and Roll Hall of Fame in 1999, McCartney has written, or co-written 32 Number One singles on the Billboard Hot 100.
His 1965 Beatles song "Yesterday" is the most covered song in history with 2,200-recorded versions. (Source: wikipedia.org)
To shop for discount Paul McCartney tickets, visit BuyAnySeat.com.
About BuyAnySeat.com: An online discount ticket marketplace, BuyAnySeat.com connects sports, theater and other live entertainment fans to an extensive worldwide network of ticket sellers. The site's simplified listings and navigational tools enable fans to easily locate, compare and purchase inexpensive, discounted or lower-priced tickets to virtually all advertised sports and entertainment events around the globe.
The online marketplace, which is PCI-compliant and Norton Secured, also provides customers with a complete Worry-Free Guarantee on all ticket purchases. Based in Denver, Colorado, BuyAnySeat.com is a subsidiary of Denver Media Holdings. For more information, please visit http://buyanyseat.com.