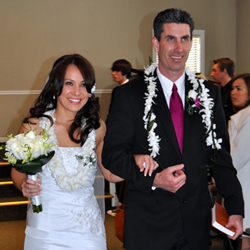 Honolulu, HI (PRWEB) June 30, 2014
Hawaiian wedding leis have become more than just an island tradition. Hawaii Flower Lei, a Honolulu-based florist specializing in shipping fresh wedding leis nationwide, is helping to promote the long-standing tradition of the ceremonial lei exchange.
Hawaii Flower Lei President Emily Steele says the sales of Hawaiian wedding leis have gone up every year since the company began shipping across the country in 2001. The company's unique "lei cooler" makes shipping the somewhat fragile leis and flowers possible.
Steele says the tradition not only includes an exchange of leis between the bride and groom (a symbol of their union), but also the couple's parents, symbolizing the union of their families.
"Traditionally the groom is presented with a maile lei, and the bride is presented with a pikake lei, however modern couples are simply choosing leis that suit their personal style."
She recommends their long lasting orchid leis and ti leaf leis, especially the maile-style ti leaf lei made to mimic the traditional maile but much more durable.
Hawaii Flower Lei ships nationwide, fresh from Hawaii. Orders may be placed online at http://www.HawaiiFlowerLei.com or customers may receive personalized assistance by calling toll-free 1-800-665-7959.