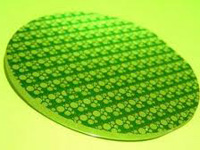 Zhengzhou, China (PRWEB) July 02, 2014
According to a recent iAbrasive report, In 2013, polycrystalline silicon industry scale was on a continual increase, the annual output reached 246,000 tons, which was 5.1% year-on-year increase centered upon solar polycrystalline silicon. The output of Electronic polycrystalline silicon was 26,000 tons, major market demand for which were from America, Germany, Japan, etc. In 2013, China was the largest polycrystalline silicon manufacturer with 84, 000 tons production; Next to China was America, the third being Germany, and the fourth—Japan. The output respectively was 59,000 tons, 46,000 tons and 13,000 tons. In general, global industrial concentration grew high; the top ten polycrystalline silicon manufacturers capacity totaled 278,000 tons, output totaled 215,000 tons, accounting for 87.7% of global production.
In 2013, global silicon wafer industry scale expanded successively, global silicon wafer capacity was more than 57GW. Among the amazing figure, China mainland capacity was approximately 40GW, China-Taiwan was 4.5GW. the global annual output was around 39GW, 8.3% year-on-year increase. annual output of China mainland, China-Taiwan was respectively 29.5GW and 4GW. Besides, annual output of Korea and Europe was 1.6GW and 1.2GW respectively. Regional differences turned out to be distinct: Asia became the largest region in global silicon wafer output, the capacity hit 52GW, taking up as high as 91% of the global; the output was 37.7GW, 97% of the whole. Seen from manufacturers, the top ten silicon wafer producers made 26GW in total capacity, 23.1GW in production, possessing 60% of the global capacity. In a word, industrial concentration kept rising.
Solar module industry scale remained a momentum of fast growth. In 2013, global capacity reached more than 65GW, output was 41.4GW, 11.3% increase compared to the previous year. China remained the largest solar module producer with an output of 27.4GW. Europe ranked second with 3.8GW, Japan was a closed third with 3.5GW. Seen from industrial concentration, the top ten solar module producers output totaled 16.3GW, taking up 41.6% of the whole; with an annual increase of 2.5 percent, each of the top ten producers exceeded 1.1GW in output. Six were from China and two were from America.
In a nutshell, 2013 was a significant year for the fast-developing global photovoltaic application market, the installed capacity reached 38.4GW, a 20% increase to the previous year. With China and Japan photovoltaic application market boom, global market has been fast-shifting to Asia. In 2013, China newly installed capacity was as high as 12.9GW, which made China the global largest photovoltaic application market. Japan witnessed 300% annual increase with 6.8GW and followed by America, the third.
To see the original version of the report, please visit: http://www.iabrasive.com/articles/global-photovoltaic-industrial-chain-developing-situation.
About iAbrasive
As the first professional abrasives online trade platform in China, iAbrasive has been devoted to abrasives and diamond tools foreign trade, and will always provide the latest information and accurate statistics about abrasives market.