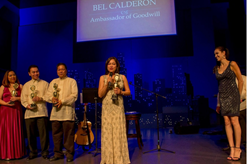 CEO Belina exemplifies the mark of a true Leader.
Los Angeles, California (PRWEB) June 30, 2014
Historic Filipinotown (HIFI) is a district of the city of Los Angeles, California and as a HIFI Ambassador of Goodwill and honoree, Bel Calderon will act as a role model and leader of the Filipino-American community of Southern California. The Historic Filipinotown Neighborhood Council is bestowing the title of HIFI Ambassador to carefully selected Filipino-Americans who are persons of integrity and impeccable leaders with exemplary achievements that have the ability to promote, reach out, influence and mobilize public interest in and support for the ideals, values, principles, programs and goals of Historic Filipinotown. The HIFI Ambassadors awarded have exemplified great success in their profession that had established themselves as movers and shakers in the community.
HIFI Ambassador Bel Calderon is the founder and CEO of 3 companies: L.A. Jobs employment agency, Summit Medical Billing and 1Heart Caregiver Services. As President and CEO for one of the fastest growing in-home care service company 1Heart Caregiver Services, Belina has been responsible for the company's increased productivity and consistent profitability for more than 10 years. Belina provided the vision, leadership and direction that the company needed to achieve its short-term goals and long-term goal. As her greatest accomplishment, the company is now equipped with expertise to expand its business operations to different States in the U.S. by third quarter of this year 2014. Belina brings with her a corporate experience of 23 years, with 13 solid years of experience as CEO of an employment service and senior care service company in Southern California. Belina's principle-centered leadership and strength in her ability to combine corporate talents pave the way for the company to achieve greater heights.
Belina's company, 1Heart Caregiver Services is a certified member of CAHSAH California Association for Health Services at Home, member of Los Angeles Area Chamber of Commerce and have been featured in Asian newspaper and other media publications all over USA like Yahoo! news, Google, TV, radio and newspaper online due to its various accomplishments, corporate programs and contribution to the senior care industry. The company recently had a ribbon cutting of the new training facility of its in-house CS Caregiver University and launching of its 1Heart Business Academy. Belina's vision remain solid and strategic as the company move forward in the near future in acquiring and expanding other related businesses in the healthcare industry thereby strengthening its competitive edge against other existing senior care companies.
About 1Heart Caregiver Services:
1Heart Caregiver ServicesTM (1Heart CS) http://www.mycaregiverservices.com is a premier In-home care service company that provides professional private care duty to seniors and adults requiring assistance in their home and healthcare needs for the past 10 years. The company is run and managed by healthcare Executives with local and international training with combined top level executive work experience of more than 50 years. CEO Belina Tagarao is a Los Angeles IMAGE AWARDS honoree 2013 and HiFi Ambassador of Goodwill awardee 2014 bestowed by Historic Filipinotown Neighborhood Council in Los Angeles California. 1Heart CS is the only In-Home Care company that has its in-house 'Caregiver University' spearheaded by Training Director Randy Clarito in Southern California area that provides professional caregiver training held at its Los Angeles head office aligned with its 'Continuing Professional Education' program implemented to all corporate managers and staff of the company and extended to senior living facility requiring in-service training for their staff. The Staffing department headed by Staffing Officer Jennifer Remigio takes charge of staffing solutions to all cases, hiring and screening of all applicants and update of caregivers, CNA and HHA data base that can readily be assigned to new and existing cases handled by Client and Care Service Managers Arnold Navarro, Anne Capili and other Managers assigned in each target County. The company carries out a 'Circle of Care' process that is uniquely implemented by all Staff Managers and cannot be matched by any senior care service company. 1Heart CS is a Certified Member of CAHSAH, California Association for Health Services at Home, Los Angeles Area Chamber of Commerce and operates in Los Angeles County, Orange County, Ventura County, San Fernando Valley, San Bernardino County and Santa Barbara County area. For a case evaluation, call #213-351-9100 #805-338-8100, #310-779-6254, #818-561-6641 and #562-412-2420 for an agreed schedule of appointment. For caregiver applicants with minimum of 2 years work experience, look for Jennifer Remigio to process the application with the submission of live scan finger print, SS card, CPR / First aid certification and TB test results.
L.A. Jobs Employment Agency
The leading career and visa specialist in Los Angeles for foreign professionals. L.A. Jobs, http://www.lajobsea.com provides more opportunities for international workers who are highly qualified professionals and competitive to be able to build their career in the U.S. The company had successfully placed hundreds of applicants in the past few years even during the period of recession and it had attained a high approval rate of H-1B work petitions and green card of applicants enabling them to take the path to citizenship through employment and live the American dream. The company aims to be the premier leader in the employment industry in the U.S. Visit for free consultation and look for Mari Reola, HR Manager and Pam Sison, Legal and Marketing Specialist or call at #213-351-9100.
Summit Medical Billing
A fast growing Medical Billing company that helps physicians and other medical and healthcare companies obtain payment from insurance carriers and patients by effectively handling insurance claims and aid them to manage their practice and finance side efficiently. Summit Medical Billing aims to establish a strong alliance with the American Medical Association and continue to provide help to their members increase their revenue with the efficient handling by the company's billing expert. Call for free evaluation and consultation at #213-351-9100.