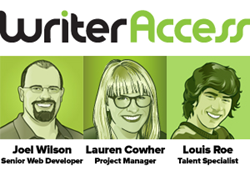 WriterAccess is growing so rapidly because of the people who stand behind our platform.
Boston, MA (PRWEB) July 02, 2014
Byron White, CEO and Chief Idea Officer of WriterAccess, welcomes three new team members hired to support the company's drive to become the premier online source for content marketing.
These new hires were brought in to help WriterAccess expand the abilities of its award-winning content marketing platform. Its online marketplace offers a user-friendly platform which enables clients to easily place orders, select qualified freelance writers from a pool of over 10,000 experienced professionals and manage their workflow, with a 100% satisfaction guarantee.
Joel Wilson, Senior Web Developer, will assist Aaron Robinson, Director of Technology, with all facets of improving the behind-the-scenes technology and platform developments. WriterAccess is always searching for ways to make the online search for qualified writers easier, and to improve the communications levels between clients and writers.
Lauren Cowher will serve as Project Manager, and will work with marketing agencies and enterprise clients. She'll rely on her BA honors from Princeton and MA honors from Goldsmiths, University of London, to make sure clients receive the maximum benefit from WriterAccess.
Louis Roe, a former intern, will be a Talent Specialist whose role will be to assist Charlotte Garden, Content Strategist, in managing the ever-growing pool of talented freelance writers.
"We really want Joel, Lauren and Louis to hit the ground running in making sure we offer the best possible platform for receiving quality content. They all come with some unique background skills that I think will make our whole team even better at doing their jobs," commented White. "WriterAccess is growing so rapidly because of the people who stand behind our platform. We don't force clients to try to figure things out for themselves. Our team is ready to answer their questions, solve their problems, and help them get the content they need."
WriterAccess is an online marketplace connecting customers directly with expert writers. It's a Platform-as-a-Service developed by ideaLaunch, a leading provider of content marketing services and solutions. The company's mission is to streamline content creation with great writers and editors that all have the passion, expertise and experience needed to help grow a business organically—the content marketing way. Visit the website or call 617-227-8800 for further information.