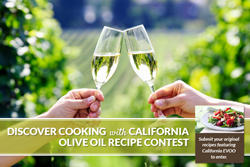 Paso Robles, CA (PRWEB) July 08, 2014
We Olive, olive oil & gourmet foods retail and wine bar chain, announces the return of their annual Discover Cooking with California Olive Oil Recipe Contest. The competition awards the creator of the best original recipe featuring We Olive olive oil a food and wine getaway to California's Central Coast. The contest, which runs through July 14, 2014, was designed to educate consumers about the small olive growers of California and inspire home cooks to experiment with high quality extra virgin olive oils.
"Our mission at We Olive is to promote the artisan growers that are committed to producing high quality, true extra virgin olive oil. Most Americans are accustomed to grocery store olive oil, which is not typically fresh or recently harvested, often mislabeled as extra virgin and, many times, rancid," explains We Olive Owner, Frank Mercurio.
We Olive features olive oils that are produced in California and certified extra virgin by the California Olive Oil Council (COOC) through an expert tasting panel and rigorous chemical analysis.
Mercurio adds, "When we introduce consumers to true extra virgin olive oil through tasting, you can see the wheels begin to turn in terms of food and cooking. There is a marked difference in taste between artisan olive oils and most of what you will find in grocery stores. We find that once someone has tasted a high quality olive oil, they are inspired to try new recipes and often share their recipes with us."
The recipe contest was born out of that mutual sharing at We Olive tasting rooms. Mercurio says that consumers that were new to artisan olive oil will often return to tell how they used a favorite olive oil and how they shared olive oils with their friends and family.
We Olive Culinary Projects Editor Emily Davis says "Some of our best recipe ideas have come from our guests. We're constantly trading ideas with regulars in our tasting rooms or wine bars. What better way to encourage this new food community than with a little friendly competition?"
The contest grand prize centers around the Paso Robles Olive Festival, a premier event featuring artisan olive oils, gourmet foods, craft beer and artisan wine. The winning entrant will receive a three-night stay at the Summerwood Winery & Inn in Paso Robles in a luxury suite, VIP Access to the 2014 Paso Robles Olive Festival and an invitation to the exclusive Growers Party following the Olive Festival. During the getaway, the winner will also be treated to a picnic & tour of Kiler Ridge Olive Farm & Frantoio as well as a tasting tour of Paso Robles' world class wineries, plus a $100 Gift Card to be used at We Olive's flagship store in Paso Robles. In addition to the grand prize, winning recipes will also be chosen from each We Olive location (twelve nationwide) as well as a people's choice winner chosen through online voting. For details on We Olive and the recipe contest, visit: http://www.weolive.com.