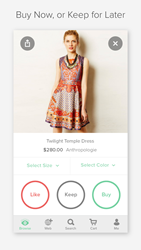 New York City (PRWEB) July 02, 2014
• Keep announces the launch of the first and only universal shopping cart. Now, shoppers can buy any product from any store, anywhere – in one checkout process.

Browse the entire web, or Keep's curations, and tap "buy" to checkout in the easiest, quickest, and most enjoyable process ever.
Enter your personal information once, then never have to again for any purchase ever.
Dangerously Delightful Checkout
"All of eCommerce, every bit of it, in a single cart. Keep has eliminated the greatest barrier to mobile commerce; the inconsistent and often intolerable experience of mobile web checkout. Now, you can enter your personal information once with Keep, and then never have to enter that information again for any purchase ever," stated Scott Kurnit, Keep's Founder and CEO. "In addition, the distrust and uncertainty of handing over your credit card to unknown merchants is now a thing of the past."
Amazingly Beautiful Product Discovery
The Huffington Post recently stated that, "Keep may be the only fashion app worth getting" for its delightful browsing and discovery of fashionable products. Now, Keep adds the most simple and productive checkout experience to marry fashion with form; a dangerous combination for serious shoppers.
"Keep's community of taste makers unites the best products from across all eCommerce into a beautiful showcase of trending, unique, and frankly, fabulous finds," said MaryAnn Bekkedahl, Keep's President and co-founder. "Our technology takes it from there to present shoppers with the most popular, shopped-for, and adored products on the web. If it's Trending on Keep, it's a 'must-buy.'"
Kurnit summed it up, "We are aware that this changes everything about mobile shopping. Mobile shopping needed to change."