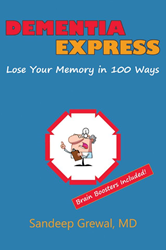 The tone of the book changes as if the devil himself wrote it.
Rock Hill, South Carolina (PRWEB) July 21, 2014
Dr. Sandeep Grewal, a board certified Internal medicine physician, has been encouraging patients to change the way they think for years. As author of Dementia Express, he promotes even tricking your own brain in order to improve how you process and retain data. He also considers it a brain healthy exercise.
"Like any other muscle, we know we have to exercise the brain to keep it in top condition," said Dr. Grewal. "Just as you switch methods up at the gym, you have to give your brain a real challenge to see real results."
Dr. Grewal's book utilizes confusion and occasional negative reinforcement to keep the brain on its toes. One page warns readers that at certain times, "The tone of the book changes as if the devil himself wrote it."
In the Memory Loss Center, Grewal looks at ways to dull the brain, coyly encouraging just the opposite of course. Taking each page at its own face value might seem odd, but the author insists that's part of the exercise, and the fun.
"It's a puzzle of logic, reason and controlling how we process what we learn," Grewal explains. "As readers learn about our brains truly operate, they must also navigate an obstacle course designed to challenge their mind."
Other recent studies have also explored ways to improve retention and other brain functioning through basic manipulation.** According to Grewal, those who try it are often quickly able to see a benefit.
Dementia Express is available at Amazon by visiting http://www.amazon.com/Dementia-Express-Memory-Boosters-Included/dp/1467904287, or at Dr. Grewal's website, http://aceinnovationgroup.com/new-book-reveal_-memory-boosters/.