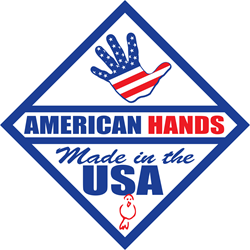 Droll Yankees produces over 100 products that proudly bear a tag demarcating them as "Made in America by American Hands."
Plainfield, CT (PRWEB) July 03, 2014
The outsourcing of American jobs and high unemployment rates are intricately linked and should be a very real concern to all Americans. Droll Yankees, however, is dedicated to keeping their operations on American soil, as they have for over forty years.
Rebuilding and strengthening the job market in America is a major headline in recent news. President Obama said in a June 2014 opinion piece on the Huffington Post that "the strength of our economy rests on whether we're getting the most out of all of our nation's talent -- whether we're making it possible for all our citizens to contribute to our growth and prosperity." In order to make the US economy stronger, we must keep our citizens employed and support the businesses that employ them.
For many consumers, the phrases "Made in America" and "American Made" mean quality craftsmanship and durability that outlasts all other products. According to a Consumer Reports survey, 78% of Americans are more likely to buy a product that is American made. Droll Yankees has been based in New England since its inception, selling their first feeder in 1969. Their hand-crafted products are assembled by the dedicated team right in their Plainfield, Connecticut warehouse.
Droll Yankees produces over 100 products that proudly bear a tag demarcating them as "Made in America by American Hands." Buying a feeder from Droll Yankees directly supports the diligent efforts of American workers. While other companies want only to increase profit margin through their foreign made and manufactured products, Droll Yankees understands and embodies the American ideals of excellence and strength through homegrown hard work. Betsy Puckett, Droll Yankees President, says "The workers in our facility are real people. They have families, hopes, and dreams, and they have bills to pay, so it's important to keep them employed. We feel strongly about keeping jobs here in the US and we're proud to be playing our small part in doing what is right for America."
Visit http://www.drollyankees.com to learn more about this American born and bred company and to view and purchase products.
In 1969, Droll Yankees started a bird feeding revolution with Model A-6F, the first tubular bird feeder. Since then, Droll Yankees has built on that success, continually developing innovative approaches to bird feeding that benefit both the birds and Droll Yankees customers. Generations of bird lovers have appreciated Droll Yankees' quality construction, functional simplicity, and commitment to American workers. Droll Yankees offers a Lifetime Warranty and will replace any squirrel-damaged or defective parts, free of charge. To learn more about Droll Yankees' products, visit, http://www.drollyankees.com