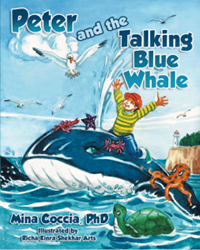 In this charming children's story, Peter discovers how to make new friends by telling the truth instead of creating fantastic stories.
Washington, PA (PRWEB) July 02, 2014
Six-year-old Peter has an issue. Parents do not want their children to play with him because they consider his stories lies instead of a way to use his creative and ingenious imagination, so therefore he finds himself without any friends. This new children's book explores what happens when Peter meets a friendly blue whale and how it changes his life.
"Peter and the Talking Blue Whale" shares the story of Peter and Wendy, a blue whale who can talk. From the moment they meet, the small boy and the large whale share a special connection only friendship can bring. Wendy convinces Peter, who loves to animate the truth, that the best policy is always to be honest and true. Although all the kids think he's telling another fantastic tale when he describes his new friend, they accompany him to the pier to meet Wendy. He's not sure if she'll appear one last time, but when a disaster happens in the village, his wish comes true.
Child development professionals consider "imaginative play" a strong creative trait, and it helps children learn about their environment and their place in it. In this charming children's story, Peter discovers how to make new friends by telling the truth instead of creating fantastic stories. Colorful watercolor illustrations by Richa Kinra add a whimsical element to the story, which works equally well as a read-aloud story for young readers and silent reader for slightly older children.
Author Mina Coccia has a book distributorship covering the mid-Atlantic region as well as an active health and wellness consulting practice in the Philadelphia area. Coccia, who has a Ph.D. in holistic health and nutrition, works to promote well-being for children through their relationship with nature, environmental awareness and health. She also wrote the "Mother Nature and Mz. Bee" series and two children's books starring Fanny Frog. Illustrator Richa Kinra of Shekhar Arts has created artwork for more than 40 children's books, adult fiction and poems.
----------
For additional information, please visit http://www.mcocciacollections.com.
Peter and the Talking Blue Whale
Mina Coccia
Dog Ear Publishing
ISBN: 978-1-4575-2766-1 34 pages $14.95 US
Available at Ingram, Amazon.com, Barnes & Noble and fine bookstores everywhere.
About Dog Ear Publishing, LLC
Dog Ear Publishing offers completely customized self-publishing services for independent authors. We provide cost-effective, fast, and highly profitable services to publish and distribute independently published books. Our book publishing and distribution services reach worldwide. Dog Ear authors retain all rights and complete creative control throughout the entire self-publishing process. Self-publishing services are available globally at http://www.dogearpublishing.net
and from our offices in Indianapolis.
Dog Ear Publishing – self-publishing that actually makes sense.