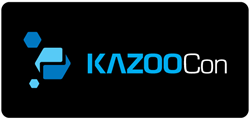 San Francisco, CA (PRWEB) July 02, 2014
2600hz, the leading provider of mobile and distributed cloud communication services announced today that they will host their annual conference, KazooCon on October 6th – 7th in San Francisco, CA. Early-Bird tickets are available for purchase on Eventbrite.
2600hz has also announced a Call for Speakers. Interested candidates can apply to speak here.
Inspired by Kazoo's open-source platform and managed by 2600hz, KazooCon is focused on revolutionizing telecom. KazooCon is a unique blend of presentations, demos, and in-depth discussions that will push the boundaries of telecom. KazooCon enables all members of the telecom community to engage in hands-on experiences focused around distributed communication networks. Attendees will learn about the latest Kazoo news and project updates, participate in technical sessions, and network with other Kazoo users throughout the two-day conference.
2600hz will also be hosting a Kazoo training following KazooCon from October 8-10. This three-day training will teach attendees about Kazoo and all of the third-party components that power the platform. Attendees will deep dive into Kazoo APIs, and learn how to set up a cluster, GUI, WhApps, FreeSWITCH, BigCouch and more. Register Here.
2600hz will launch its 2014 KazooCon website and announce speakers in the coming weeks. To see a recap of last year's inaugural KazooCon, please visit http://www.KazooCon.com. Those interested in sponsoring or demonstrating products at KazooCon will need to contact marketing(at)2600hz(dot)com.
About 2600hz
2600hz is a leading provider of mobile and cloud communications software, providing voice, video, fax and SMS technologies. 2600hz empowers its customers to take control of large telecom infrastructures by removing the barriers between users and their telecom systems. The 2600hz platform makes it easy for developers to create telecom applications with open access APIs. Based in San Francisco, California, 2600hz is a privately owned company. For more information, visit http://www.2600hz.com.