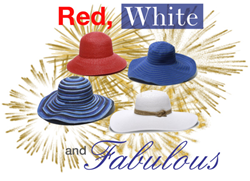 San Francisco, California (PRWEB) July 03, 2014
Specializing in warm weather vacation wear, SolEscapes has a broad selection of sun hats, apparel, and accessories for resort holidays, luxury cruises, and beach outings. 4th of July means that many will be heading to the beach, or embarking on a tropical vacation, and will need to stock up on necessities such as sun hats, flip-flops, beach bags, cover-ups and children's swimwear.
SolEscapes' special 20% offer comes at just the right time. By using coupon code fabulous, savvy shoppers can get 20% off, site-wide, on everything they need for their tropical summer vacation. And since it's 4th of July, why not buy something red, white or blue? A few ideas are:
Sun Hats: Protecting the skin from the bright summer sun is vital; and so is looking stylish. Cover both bases with a fashionable sun hat. For a day of sand and sun, Bimini is a great choice. It's cute, casual, and comfortable with its soft ribbon construction. It's packable, so it can easily slip into a beach bag. If glamour is the name of the game, look at Chloe. Chloe has a sleek shape, and is made of fine milan straw. Both hats are UPF 50+ rated, meaning they provide superb sun protection, and both are available in several other colors.
Cover-Ups: When spending a day poolside, there are times when a little more coverage is desired. A beautiful swimsuit cover-up, such as the La Blanca Cotton Crochet tunics fits the bill perfectly. It has sassy lines and sweet crochet embellishments. It's made of 100% cotton in a gauzy weave. Available in sizes XS – L.
Swim Shirts: For active water play, a swim shirt (similar to a rash guard) provides great sun protection, comfort and high performance. Swim shirts for men and women by Victory KoreDry are made from breathable, quick-drying fabric that repels water and protects the skin from the sun with a UPF 50+ rating. They're perfect for swimming, beach play, surfing, kayaking, and more.
Flip-flops: A cute pair of sandals are a must for warm weather. They look stylish while keeping the feet cool. Keikei's sandals are just right for a day of shopping or strolling along the beach. Their footbeds are made of soft EVA/rubber. The straps are made from colorful beads in fun materials such as coconut, mother of pearl and capiz shell.
Beach Bag: A tote bag is a beach necessity; it's indispensable for hauling the beach towels, toys, snacks, drinks, and clothes for the whole family. A bogg bag works perfectly. bogg bags are made of sturdy, easy to clean EVA foam. Their shape stays upright and open, making it easy to load and unload. Their straps make carrying comfortable, and internal accessory bags are sized for holding small essentials such as keys and cell phones.
SolEscapes entire collection of beach-ready gear is on sale: 20% discount with coupon code fabulous. The sale runs July 4 – 7, 2014.
SolEscapes is a California based online boutique offering a unique selection of stylish and practical sun, beach and resort essentials for all warm weather needs. SolEscapes offers personalized service, high quality products and fast, affordable shipping. Merchandise, including all beach hats, is carefully and beautifully packaged to ensure a perfect arrival. For more information, please visit SolEscapes.com. You can also connect with SolEscapes on Facebook, Twitter and Pinterest.