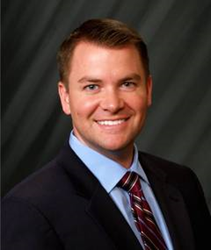 St. Louis, MO (PRWEB) July 03, 2014
Thomas Martin, CFP, CPWA regional director and partner at Larson Financial and author of the book Doctors Eyes Only: Exclusive Financial Strategies for Today's Doctors and Dentists, has been named to the Investment News magazine's inaugural list of 40 Under 40. This nationwide distinction recognizes professionals in the financial planning industry under the age of 40 that have already exhibited impressive accomplishments at a young age while laying the groundwork for promising future prospects.
The editorial staff of Investment News vetted a list of nearly 1,200 applicants and selected 40 for inclusion based on the criteria of accomplishment, contribution, leadership and promise. Published on June 23rd, the final list reflects a diverse group of advisors representing a broad spectrum of the financial services industry. Martin received an invitation to the Investment News headquarters in New York City where he discussed how to increase professionalism and trust in the financial advice business with other recipients.
As a financial specialist for medical professionals, Martin regularly provides briefings to reputable academic programs and medical associations across the country. He strives to exceed the expectations of his physician clients by helping them build a solid financial foundation and a secure future for their families.
About Larson Financial Group:
Larson Financial has offices nationwide serving over 3,000 medical specialists in regards to all aspects of their finances. Using a personalized, comprehensive planning approach, the primary goal is to help doctors successfully navigate through their many unique financial options. In addition to working one-on-one with physicians, the advisors of Larson Financial share their knowledge with doctors, hospitals and private practices by offering educational workshops and seminars.