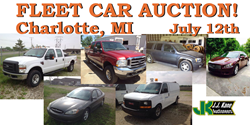 Charlotte, MI (PRWEB) July 02, 2014
J.J. Kane announced a large public auction in Charlotte, MI (Lansing area) on July 12th selling fleet vehicles from Consumers Energy, Detroit Edison, Michigan Gas Utilities, & Area Contractors. Everything will be sold at absolute auction to the highest bidder regardless of price. Auction items include, Ford, Chevrolet, Toyota, and Dodge. Models include, Explorer, F-Series, Taurus, Escapes, Rangers and more!
The auction sale will be held at J.J. Kane auction yard, 750 Island Hwy, Charlotte, MI 48813. For questions, contact your auction consultant Neil Ott at (616) 638-4364 or by email at neil(at)jjkane(dot)com
The auction is live with bidding starting at 9:00 a.m. Saturday, July 12th, and buyers do not have to be present to participate as anyone can register to bid on site, online or through absentee bid. There is no fee for registration or entry into the auction. Bidders can inspect vehicles and register on Friday, July 11th 8 a.m.-4 p.m. and also at 7:30a.m. on auction day, July 12th. This auction is held in Charlotte, MI several times a year and business owners are encouraged to sign up for weekly updates to stay informed of upcoming auction dates.
J.J. Kane auctions are absolute, meaning that everything sells to the highest bidder, regardless of price. The auction inventory grows each week as the live auction date approaches. There are no minimums or reserves at an absolute auction and the selling price is determined by the bidders, and no one else. The auction differs from others in that you don't have to be a dealer to buy. J.J. Kane is well-known for used bucket trucks, forestry vehicles and utility equipment auctions. However, their auctions also feature many used light-duty trucks, 1-ton trucks, cars, vans, SUV's, trailers and more.
At JJ Kane, we connect buyers with the equipment they need through our simple process where you can buy or sell in person, on site or online. The sellers benefit from a convenient and cost-effective way to sell equipment and fleet vehicles at market value. Buyers like the fact that they can kick the tires and inspect vehicles and equipment personally prior to the auction," says Joe Kane, founder of J.J. Kane Auctioneers.
About J.J. Kane
J.J. Kane Auctioneers was founded more than 20 years ago by Joe Kane with a goal of providing the best process to serve our customers, anchored on a foundation of family, strong values and relationships. These values carry on, today, making J.J. Kane one of the most successful auction companies serving buyers and sellers of used equipment in the U.S and across the globe.