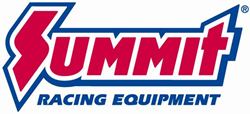 Tallmadge, OH (PRWEB) July 07, 2014
Thermo-Tec's Thermo-Guard FR Heat Shield can make any vehicle interior nice and comfortable. The lightweight, durable shield has a 100% synthetic fiber felt that provides sound and vibration control, plus a high-tech foil heat barrier that blocks more than 90% of radiant heat. Thermo-Guard FR is only a quarter-inch thick, so it adds next to no weight or bulk under carpeting or inside doors.
Thermo-Guard FR is easy to apply using Thermo-Tec's Heavy Duty Spray Adhesive, and can be trimmed to fit anywhere. It is also available with both sides covered with the foil heat barrier for extra heat insulation—ideal for firewalls and floors.
See all Thermo-Tec Thermo-Guard FR Heat Shields at Summit Racing.
Summit Racing Equipment
http://www.SummitRacing.com
1-800-230-3030