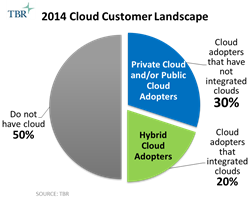 Hampton, NH (PRWEB) July 08, 2014
Technology Business Research Inc.'s (TBR) Hybrid Cloud Customer Research report indicates 20% of the large enterprise market has integrated at least two clouds to create a hybrid cloud, creating a $7 billion hybrid integration market in 2014. The volume of integrations will increase over the next five years as customers demand improved data interoperability, connectivity and customer experience. The Hybrid Cloud Customer Research report identifies vendor opportunities in the market by uncovering customer perceptions of solutions and vendors, intentions to purchase, and anticipated budgets. This customer-focused research will accelerate vendors' understanding of a fledgling market and prepare them to more efficiently compete for share.
"Branded hybrid cloud vendors such as IBM and HP have an advantage, as they offer public cloud, private cloud and built-in integrations along with professional services to set up and potentially manage their hybrid environments. Similarly, there is opportunity in the third-party integration market with ISVs like MuleSoft rapidly building out their connectors to integrate cloud-to-cloud and cloud-to-traditional tools, and SIs to execute custom integrations," TBR Senior Analyst, Jillian Mirandi said.
TBR surveyed over 1,600 cloud purchasing decision makers in large enterprises across the United States, the United Kingdom, Germany, France, China and India to understand the overall cloud market, leveraging survey results for analysis in four reports, including the Hybrid Cloud Customer Research report. The report analyzes buying patterns and how these patterns relate to cloud vendor opportunity and selection. The data and analysis in the report details customers' perception of competing vendors across hybrid cloud workloads and integration, predicts behavior, and highlights barriers and drivers of hybrid integration, all which will shape the competitive strategies of hybrid cloud vendors over the next five years.
Cloud integration is critical to driving increased value from cloud adoption, as it creates revenue opportunities across the ISVs' and systems integrators' landscapes. IBM, Microsoft and HP lead the market in hybrid cloud adoption given the breadth of their portfolios and investments in integration. These vendors are also leaders in TBR's Public Cloud Benchmark and Managed Private & Professional Services Cloud Benchmark, with hybrid as the next logical step. For hybrid integration, IBM Cast Iron, Dell Boomi and Informatica were most used by customers. TBR believes integration vendors such as IBM with Cast Iron and Dell with Boomi will continue to roll into larger companies such as HP and Cisco to grow their cloud businesses.
For more information about the Hybrid Cloud Customer Research report or to purchase the report, please contact Alison Crawford, senior marketing manager, at 603.758.1838 or alison(dot)crawford(at)tbri(dot)com, or James McIlroy, vice president of sales, at 603.758.1813 or mcilroy(at)tbri(dot)com.
ABOUT TBR
Technology Business Research, Inc. is a leading independent technology market research and consulting firm specializing in the business and financial analyses of hardware, software, professional services, telecom and enterprise network vendors, and operators. Serving a global clientele, TBR provides timely and actionable market research and business intelligence in a format that is uniquely tailored to clients' needs. Our analysts are available to further address client-specific issues or information needs on an inquiry or proprietary consulting basis.
TBR has been empowering corporate decision makers since 1996. For more information, please visit http://www.tbri.com.