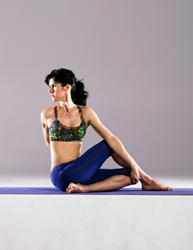 For Boston fitness enthusiasts, this event is a must.
South Boston, MA (PRWEB) July 03, 2014
Hotdrop Apparel, a South Boston based fitness and yoga line, is opening its doors to the public on July 12th & 13th from 11am-4pm for a warehouse sale and fitness expose. The sale will be held at the Hotdrop headquarters, 22 Elkins Street on the second floor, with plenty of free onsite parking.
Hotdrop will be showcasing it's typically online only products with a discount of up to 50% off. In addition to a discount on the products, attendees will have the chance to meet Hotdrop creator and Bikram yoga instructor Meredith Evangelisti and learn more about the inspiration for the brand. Throughout the sale, various fitness and yoga instructors will be offering demos of their classes for the shoppers. Lauren Hefez, founder of Sweat with Lauren Hefez, will be teaching a 30 minute class and holistic health coaches from Team J + A will be offering samples of recipes from their detox program.
For Boston fitness enthusiasts, this event is a must. To find out more details and schedule information, please visit the following site:
http://www.hotdropapparel.com/news/2014/07/hotdrop-warehouse-sale-june-12-13/
About Hotdrop Apparel
Hotdrop Apparel was founded in 2011 by Meredith and Marco Evangelisti, after Meredith received an overwhelming response to the custom yoga clothing her mother had sewn for her Bikram Yoga teacher training by fellow trainees. As other trainees started to inquire about where they could buy the clothing, Meredith's entrepreneurial spirit took over and she began to sketch more and more designs to keep her fellow yogis well outfitted.
Hotdrop Apparel takes pride in the quality of fabric and workmanship that goes into each piece; with productions in the US, Hotdrop is dedicated to helping the domestic garment industry thrive. Every article of clothing from the Hotdrop line demonstrates appreciation and admiration to those within the industry as each item is named after someone in the yoga and fitness community that has inspired the Hotdrop team. Additionally, Meredith and Marco strongly believe in giving back to the Yoga and fitness community. They are dedicated to having ongoing sponsorships with national athletes, fitness models and yoga champions.
About Team J+A
Jody Grimm + Ashley Wilson, certified holistic health coaches, are the founders of Team J + A and creators behind the 14-day Whole Food Detox program.   
Team J+A's modern approach to group wellness programs and courses will guide you to feel something more.