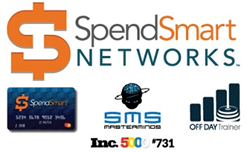 In our effort to build a world-class sales network with global reach, it is vastly important that we hire and train top-level sales athletes
San Luis Obispo, Calif (PRWEB) July 02, 2014
SpendSmart Networks (OTC: SSPC), a recognized global leader in prepaid cards and digital customer loyalty announced today the addition of two members to its sales team: Josh Riley and James Carson, who will function as Licensee Sales Executive and Sales Operation Specialist (respectively) to support the growing demand for SpendSmart Networks services.
Riley has an extensive background in sales and growth initiatives, having previously worked with El Dorado Broadcasting. He brings a unique perspective to the business of selling market-exclusive licenses, grasping the value of local media and the importance of local customer relations. He is the Cub Master of Pack 217 in Cambria and serves as a board member for the SLO County Sheriff Advisory Foundation.
Carson started with the company as an intern in 2013 and now a recent Cal Poly graduate who has earned his degree in business administration, with a concentration in entrepreneurship. In his new role, he will be assisting with licensee sales, the SMSMM Mentorship Program, tactical market visits, national enterprise sales and various duties related to SpendSmart Networks' growing telemarketing sales efforts.
"In our effort to build a world-class sales network with global reach, it is vastly important that we hire and train top-level sales athletes - as we build our team we look forward to expanding our Licensee and Merchant networks and James and Josh are going to contribute directly to that effort," stated Charles Gerencser, VP of Sales.
About SpendSmart Networks
Founded in 2007 and headquartered in San Luis Obispo, Calif., SpendSmart Networks, Inc. focuses on connecting merchants and consumers through its suite of services that includes digital engagement, mobile marketing and financial tools. These services are implemented and supported by a vast network of certified digital marketing specialists, aka "Certified Masterminds," who drive revenue and consumer relationship for merchants via loyalty programs, mobile marketing, mobile commerce and financial education, such as prepaid card & reward systems. Consumers' dollars go further when they spend it at amongst the SpendSmart Network' of merchants, as they receive exclusive deals, earn rewards and build a connection with their favorite merchants. Digital Customer Loyalty at it's finest.