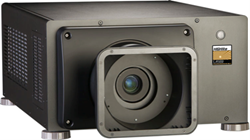 Atlanta, GA (PRWEB) July 03, 2014
Digital Projection International (DPI), an Emmy® Award-winning manufacturer of high-performance projection systems, announces the launch of the HIGHLite LASER WUXGA 3D, the world's first production, high-brightness laser projector. Remarkably bright with no lamps to replace, the HIGHlite Laser delivers a stunning 10,000 lumens from a stable solid-state light source, capable of producing over 20,000 hours of illumination. Available in the WUXGA (1920 x 1200) resolution, the HIGHlite Laser WUXGA 3D is now shipping.
Developed with a 'Set it and Forget it' directive, the HIGHlite LASER delivers an impactful imaging solution that installers and system integrators can deploy, with minimal maintenance throughout the lifetime of the display. Equally compelling is the lack of lamp replacements due to the solid state illumination system. By bypassing regular lamp replacement cycles, incremental maintenance costs associated with such maintenance cycles are nullified. This key characteristic allows the HIGHlite Laser to have a much lower cost of ownership over the lifespan of the display. Venues looking to produce a compelling visual experience will realize true cost-saving benefits through the HIGHlite LASER's advanced illumination technology.
The HIGHlite LASER stands alone in the professional AV marketplace by producing 10,000 lumens through laser-hybrid illumination in a compact chassis design. The high brightness output allows venues to present captivating imagery in a variety of venues, even when ambient light is present, such as in auditoriums and houses of worship. The near unlimited tilt capabilities are also distinct as they give venues an unlimited amount of installation flexibility. Venues can feature imagery positioned vertically, horizontally, and almost everything in between, without degrading the light source lifespan.
Combine the exceptional bright, long-life illumination source with a host of other precision features, and you have a projector solution that's perfectly suited to a diverse range of professional venues. Image Edge Blending is included as standard, along with advanced geometric warp correction. Additionally, active 3D functionality with frame rates up to 144 Hz is included. Dual HDMI 1.4, DVI and 3G-SDI inputs enable the latest high speed video delivery. HDBaseT connectivity further augments the HIGHlite LASER's input options, allowing for the transmission of uncompressed High Definition Video over a CAT5e/6 LAN cable. A diverse selection of both fixed and zoom lenses, with throw ratios ranging from 0.77:1 to 6.76:1 and extensive lens shift, ensure that integrators installing the HIGHlite LASER have complete flexibility with respect to projector placement.
Visit http://www.digitalprojection.com/laser for details on this extraordinary new projection solution.