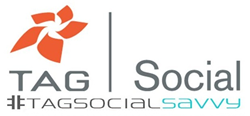 Founded in 2013 by TAG Social, a society of Technology Association of Georgia, the Social Savvy Awards celebrates strides made by Georgia based companies and organizations in social media and enterprise over the past year
Atlanta, Georgia (PRWEB) July 02, 2014
Technology Association of Georgia in collaboration with TAG Social, today announced that Ryan Oliver, Brand Strategist at Twitter will provide the keynote address at the second Annual TAG Social Savvy Awards on Monday, September 15, 2014.
Following Oliver's presentation will be a panel discussion featuring industry leaders Laurens Eckelboom, Global Business Development Executive at Parkmobile, and Ashley Gross, Customer Success Manager at Yammer, Inc. Atlanta TV and Radio Host, Conn Jackson will Emcee the event.
Founded in 2013 by TAG Social, a society of Technology Association of Georgia, the Social Savvy Awards celebrates strides made by Georgia based companies and organizations in social media and enterprise over the past year. Last year, the event featured Luke Davies, Social Selling Thought Leader at LinkedIn who spoke before a sell-out crowd of industry leaders. Watch highlights from the 2013 Social Savvy Awards here.
This year, the top finalist will be named for the People's Choice Award and will be highlighted at the event which will take place at the Chick-fil-A Foundation Junior Achievement Discovery Center at the World Congress Center.
The nomination process is still open and companies are encouraged to apply or nominate at http://bit.ly/tagsavvy_nominate.
The nomination deadline for the Social Savvy Awards is August 1, 2014.
Please contact Sierra Moore at sierra(at)tagonline(dot)org or Chad McCroskey at chad(at)tagonline(dot)org for more details.
Visit http://bit.ly/tagsocialsavvy to learn more about this year's Social Savvy Awards– including information regarding sponsorship, speaker updates and registration.
Follow the discussion @TAGSocialBiz on Twitter, join the TAG Social group on LinkedIn, and receive updates by subscribing to TAG Social's email distribution list.
About TAG Social Society
TAG Social is about succeeding and thriving in "the new world of work." The way people communicate, the way meetings are conducted, the way information is stored and shared have all changed. TAG Social is as much about people, process, and culture as it is about technology. The ability to collaborate, to be social, can be a competitive advantage, and we're showing you how. For more information visit http://www.tagonline.org/chapters-and-societies/social/
About The Technology Association of Georgia (TAG)
TAG is the leading technology industry association in the state, serving more than 23,000 members through regional chapters in Metro Atlanta, Athens, Augusta, Columbus, Macon/Middle Georgia, and Savannah. TAG's mission is to educate, promote, and unite Georgia's technology community to foster an innovative and connected marketplace that stimulates and enhances a tech-based economy.
The association provides networking and educational programs; celebrates Georgia's technology leaders and companies; and advocates for legislative action that enhances the state's economic climate for technology. TAG hosts over 200 events each year and serves as an umbrella organization for 34 professional societies. Additionally, the TAG Education Collaborative (TAG's charitable arm) focuses on helping science, technology, engineering and math (STEM) education initiatives thrive.
For more information visit the TAG website at www(dot)tagonline(dot)org or TAG's community website at www(dot)TAGthink(dot)com. To learn about the TAG-Ed Collaborative visit www(dot)tagedonline(dot)org .