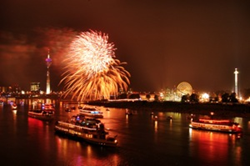 The fair has been around for 500 years, and Pink Monday for more than 20 years. The success of the combined event is a beautiful synergy of everyone present.
Düsseldorf, Germany (PRWEB) July 03, 2014
A huge German summer fest complete with traditional beer tents and spectacular modern rides, live bands and rustic food and candy stands and about 400,000 visitors of all ages enjoying the summer day at the fair – and smack in the middle are thousands of gays and lesbians infusing the amazing time with even more great party spirit for one of the ten days of the fair. The fair is called "Biggest Fun Fair on the Rhine," (2014 dates: July 11-20) and the LGBTQ event within it "Pink Monday" (July 14, 2014).
The fair has been around for 500 years, and Pink Monday for more than 20 years. The success of the combined event is a beautiful synergy of everyone present. The vendors decorate their booths and rides in pink and rainbows and people dress up in bright colors all across the fair. Schwarzwald Christel (Blackforest Christel), one of the many beer tents at the fair, is the center of Pink Monday and the sea of gays and lesbians and their friends and families having an amazing time. Pink Monday attracts around 50,000 visitors and is one of Germany's biggest outdoor LGBTQ events. The fair itself is one of Germany's biggest outdoor events, drawing a total of around 4 million visitors each year. Combined, both events are a recipe for a rare and huge success in bringing people of all ages and backgrounds together and dressing a bona-fide German fest in a new outfit.
The 10-day fair ties together tradition and modern entertainment on any day. Visitors will find not only the German fest staples - beer tents with live music, costumed servers, and all imaginable German fest food delicacies from savory to sweet: sausage, roast, pig knuckles to potatoes and sauerkraut to apple cake and ginger bread and much more – but also state-of-the-art rides, including some of the world's biggest temporary rides for kids of all ages. Even the event's start is a show of superlatives: 3,000 uniformed marksmen on horseback and foot, marching bands and other traditional teams make their way through Düsseldorf's streets in what is one of Germany's largest parades and kick-offs for the fair. The actual Fun Fair will take place for the 113th time this year in its current location: the vast Rhine meadows on the Rhine River right across the city's center and easily reachable by foot, ferries, and public transportation.
Both the Fair and Pink Monday are a huge hit with audiences from the surrounding Ruhr Region, one of Europe's most densely populated areas with 53 connected cities and 18 million residents in a 40 mile radius – giving the event much local character in world-class proportions and making it one of the best-kept secrets on the international mega outdoor festival circuit.
Many of the fair visitors stay to explore Düsseldorf's other world-class attractions, as the city is growing immensely as an international leisure destination (a new record of 4 million hotel nights was broken for the second year in a row in 2013).
Düsseldorf's tourism office is offering a hotel and city specials for visitors. The package, called "Biggest Fun Fair on the Rhine" can be booked right from the tourism office's website at https://www.duesseldorf-tourismus.de/en/accommodation/hotel-packages/hotel-package-biggest-fun-fair-on-the-rhine/. Prices start at €52 per night per person based on double-occupancy for a 2-3-star hotel in the city center and at €72 per person for a 4-star hotel. The package includes breakfast, one DüsseldorfCard (free public transportation within city limits plus 30 free or reduced admissions to city attractions), and a city information package. Please check the website for current information.
For more information about Düsseldorf's "Biggest Fun Fair on the Rhine" and about the destination Düsseldorf, please visit http://www.visitduesseldorf.de.
###
Düsseldorf Marketing & Tourism GmbH is the visitors and convention bureau of the city of Düsseldorf. Its responsibilities include tourism and city marketing, as well as conference and meeting marketing, hotel reservation services, fairs and convention services, city event ticket sales and advance ticket reservations. For more information, visit w ww.visitduesseldorf.de.
Düsseldorf Airport, Germany's Next Generation HubTM, offers several non-stop flights from US & Canadian cities (Atlanta, Chicago, Ft. Myers, Los Angeles, Miami, New York, Newark, Toronto), as well as convenient connections to many European cities. For more information about the airport, visit http://www.dus.com.