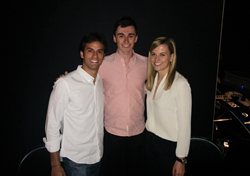 it's not often someone gets the chance to go to a Formula One factory and enjoy a charity dinner"
(PRWEB UK) 4 July 2014
Aspiring professional racing driver Raoul Owens had the rare opportunity to enjoy an evening in the company of the Williams Martini Racing FIA Formula One World Championship team on Wednesday, 2nd July, as part of a specially organised charity dinner at the squad's Oxfordshire headquarters.
Hosted at the Grove HQ by Sir Frank Williams and his daughter Claire, deputy team principal, the exclusive event during the build-up to this weekend's British Grand Prix at Silverstone was held to help raise awareness of, and funds for, the Spinal Injuries Association which works to support the wellbeing of the 40,000 people in the UK with spinal cord injuries.
Raoul, who is currently on the path towards F1 in the Formula Renault 2.0 Northern European Cup (NEC) where he competes with the Mark Burdett Motorsport team, was joined at the dinner by his race engineer Andy Miller – former operations director at Stewart Grand Prix and Director of Racing at Jaguar F1.
Seated at a table alongside Williams Martini Racing Grand Prix drivers Felipe Massa and Valtteri Bottas, they were also joined by the team's official test and reserve driver Felipe Nasr and Williams F1 development driver Susie Wolff.
"It really was a great experience, it's not often someone gets the chance to go to a Formula One factory and enjoy a charity dinner," said a thrilled Raoul, "It was fantastic to meet the drivers and members of the team, Andy [Miller] and I sat at a table with Felipe Massa, Valtteri Bottas, Felipe Nasr and Susie Wolff so that was really good and very enjoyable."
"Being able to look around the factory was great and it was really nice to meet people from Williams who were all fantastic. Having the opportunity to see the amazing history of the team too was pretty special, Williams is obviously one of the oldest teams in Formula One and has had so much success over the years. The whole evening was very interesting and great to be involved in."
Returning to Raoul's own racing, his next outing in Formula Renault 2.0 NEC will come at the end of the month when the one-make championship visits Spa-Francorchamps in Belgium for the fourth event of the 2014 season on Friday, 25th July, and Saturday, 26th July.
Before then, the Pembury racer will join the blue riband Eurocup Formula Renault 2.0 series for its visit to the Nurburgring in Germany over the weekend 12th/13th July.
ENDS
Note to editors: Copyright free image of Raoul Owens with Felipe Nasr and Susie Wolff at the Williams Martini Racing charity dinner attached for editorial use.
Website: http://www.raoulowens.com
Facebook: http://www.facebook.com/RaoulOwensRacing
Twitter: @raoul_owens
Media Contact:
Marc Orme
Tel: +44 (0)7920 886985
Email: marc(at)marc-orme(dot)co.uk / marcorme1(at)aol(dot)com