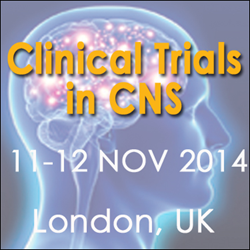 (PRWEB UK) 4 July 2014
SMi is delighted to announce its 13th annual Clinical Trials in CNS Conference. With an ever increasing average life expectancy, neurodegenerative diseases are becoming more prevalent in society. With this comes the need for new and improved therapies for treating neurodegenerative conditions. From Alzheimer's to Parkinson's disease, the target and mechanism by which a disease manifests itself presents unique challenges in how to approach such treatments not to mention ethical and legal issues behind treatment and trial design.
This conference will give delegates the opportunity to gain additional insights into the best practices in clinical trials, as well as address the challenges in CNS research and by looking at the latest pre-clinical and clinical studies.
This is an opportunity not to be missed, as we delve into the complex and exciting world of Central Nervous System discovery, allowing delegates to learn, explore and debate the key areas of CNS, its preclinical discovery and its clinical trials.
Reasons to Attend:
•Examine the multi-stakeholder approach to self-management and multidisciplinary care in patients with MS
•Discuss the past, present and future of CNS medicines research
•Analyse novel biomarkers for the brain
•Understand the recent failures in CNS development and how translation did not work
•Review the collaboration between industry and academic partnering
Key Speakers:
Tine Bryan Stensbøl, Divisional Director Discovery Pharmacology Research, Lundbeck
Alan Palmer, Co-Founder and Director, MS Therapeutics
Veronique Bragulat, Clinical Imaging Manager, GSK
Sophie Dix, Senior Research Scientist, Neurodegenerative Disease Drug Hunting Team, Eli Lilly
David Willé, Applied Statistician, GSK
Peter Joseph Jongen, Founding Director, MS4 Research Institute
Ernst-Wilhelm Radue, CEO, MIAC AG
Edwin Johnson, Director, Stockholm Brain Institute
Shahid Zaman, Affiliated Lecturer, University of Cambridge
For more information please visit http://www.smi-online.co.uk/2014clinicaltrialscns54.asp.
If you would like to attend this conference as a delegate please contact Filipa Ribeiro on +44 (0) 207 827 6020 or e-mail fribeiro(at)smi-online(dot)co.uk.
If you are interested in sponsoring this event contact Alia Malick on +44(0)20 7827 6168 or email amalick(at)smi-online(dot)co.uk.
If you would like to become a media partner contact Sarah Watson on +44 (0)20 7827 6134 or email swatson(at)smi-online(dot)co.uk.