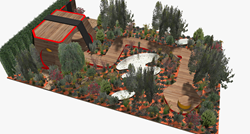 We are really proud to have been asked to supply so many different products to gardens in the RHS Hampton Court Flower Show again this year
London (PRWEB UK) 7 July 2014
Expert natural stone suppliers, CED, will supply stone products to six gardens featuring at the upcoming RHS Hampton Court Palace Flower Show from 8th - 13th July. RHS Hampton Court Palace Flower Show is the world's largest annual flower show and CED is delighted to be represented so well at the prestigious event. Most of the materials will be supplied to the gardens by CED's Thames Valley Depot.
'We have worked with many of the designers and contractors before and are really proud to have been asked to supply so many different products to their show gardens again this year. The range of products and expertise that we can offer designers is second to none and we wish all involved with this years RHS Hampton Court Flower Show a very successful show', commented Ralph Allen, Thames Valley Depot Manager.
The gardens featuring in this year's RHS Hampton Court cover a wide variety of themes and incorporate plant life from a range of locations. Examples include 'The One Show Garden', which is inspired by the Roman City of Bath and 'The Essence of Australia', which features Australian native plants never before seen at the show.
CED products will feature in the following garden designs:
The Forgotten Folly, designed and built by Horticolous
CED materials: Weathered Limestone and Pennant Walling
The Essence of Australia, designed by Jim Fogarty and built by Landform Consultants.
CED materials: Red Sandstone Rockery, Red Terracotta Sand, Red porphyry aggregate, granite aggregate, shingle, Aegean black, Scottish beach and Rainbow cobbles
Bacchus Garden, designed by Jean Wardrop and built by RDC Landscapes
CED materials: CEDEC Red Footpath Gravel
The One Show Garden, designed by Alexandra Noble, built by Outdoor Room
CED Materials: Golden Amber Footpath Gravel
The London City Garden, designed by Jonathan Mark, built by London Landscape & Garden Design.
CED materials: Aegean Green Cobbles 80-60mm
Macmillan Legacy Garden, designed by: Rebecca Govier (Green Edge Garden Design) and built by Big Fish Landscapes
CED materials: CEDEC Red footpath gravel
Jim Fogarty, Designer of 'The Essence of Australia' garden, praised CED for their dedication and attention to detail:
"The team at CED has really gone the extra mile for us in sourcing the rocks, aggregate and gravel that will be the finishing touches of the Essence of Australia show garden. Great care has been taken to match these elements to those you would find in Australia, particularly in the Red Centre and Northern Territory areas which have inspired the design."
CED's presence at the RHS Hampton Court Flower Show builds on the success of their involvement in the esteemed RHS Chelsea Flower Show in May, where their contribution resulted in a number of high profile awards.
Visitors to the show can find out more about the gardens featured here and other exhibitors on the RHS Hampton Court Website.
About CED Ltd.
CED Ltd. (http://www.ced.ltd.uk/) specialises in the supply of natural stone products and facilitates the use of stone throughout the landscape and construction industries. With over 35 years of experience in the hard landscaping industry, CED products are sourced directly from the best producers in the UK and overseas for domestic and commercial use.