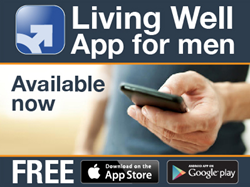 'Over the course of my professional career, I have met, talked with, evaluated, and treated countless men who suffered childhood sexual abuse. I only wish I could have "given" this App to each of those men on our first encounter.' - Dr. David Lisak
Pasadena, CA (PRWEB) July 08, 2014
Research demonstrates that men who were sexually abused as children are at a significantly higher risk for a host of health and mental health issues, often not seeking help until much later in life. 1in6 was founded in response to this serious social problem, and in seven short years has become a leading voice in the effort to develop and disseminate knowledge, resources and skills to help the one in six (19 million) men in the United States heal from childhood sexual abuse.
"We are looking forward to working in partnership in the coming year to adapt this valuable resource, to create a joint Living Well/1in6 North American version of the App," said Steve LePore, 1in6 Executive Director.
Child sexual abuse can have profound effects on men's lives and relationships, often leaving them feeling isolated, disconnected and alone. The stigma and shame associated with sexual abuse can make it difficult for men to speak of what has happened and to access support. This App provides practical, confidential information and support that men can access anywhere at anytime.
Dr. David Lisak, the Board Chair of 1in6, praised the Application, "Over the course of my professional career, I have met, talked with, evaluated, and treated countless men who suffered childhood sexual abuse. I only wish I could have "given" this App to each of those men on our first encounter. They would have walked away with an ever-ready source of crucial suggestions, important information, answers to troubling questions, and perhaps most amazing, an interactive therapeutic aid in their back pocket. The Living Well App is an absolute marvel."
The North American version of the Living Well App is expected to be released in the coming year. For more information about the collaboration and Application, please contact Steve LePore at steve(at)1in6(dot)org or Gary Foster at GFoster(at)anglicaresq(dot)org(dot)au.