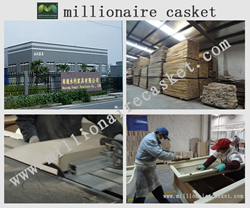 (PRWEB) July 07, 2014
Recently, MillionaireCasket.com, a famous casket supplier in the current market, has unveiled its latest selection of 18 gauge metal caskets and launched a summer special offer for the new items. Until July 28, all of them are available at discounted prices, up to 31% off.
The company's chief executive officer says, "We are happy to release the new 18 gauge metal caskets. All of them feature quality materials and great craftsmanship. I think worldwide distributors will like these items. In addition, we have plenty of funeral items online for sale now. Please note that the big sale will last until July 28; those who are looking for cheap 18 gauge metal caskets should visit our website as soon as possible."
What's more, MillionaireCasket.com also accepts customized orders. Its other products like ash caskets, pine caskets, poplar caskets and mahogany caskets are also offered at low rates now. The company is trying its best to be an outstanding casket supplier.
All its designers are now working hard to make more high quality funeral items for clients throughout the world. On its website, there is a huge selection of funeral products. All of them are great in terms of quality and craftsmanship.
About MillionaireCasket.com
MillionaireCasket.com is a leading casket company that focuses on the business of casket wholesale. This company offers an exquisitely crafted line of all kinds of metal caskets, solid wood caskets, veneer caskets, cremation caskets, rental caskets, orthodox caskets, infant or over-sized caskets and European style coffins. The standard quality control policy is strictly applied here, and a third party quality assurance is also available.
More information can be found at http://www.millionairecasket.com/77-18-gauge-metal-caskets.