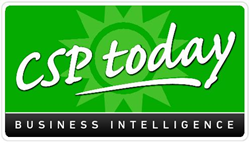 London (PRWEB) July 16, 2014
There are already very strong relations between India and countries in the Middle East such as the UAE, Saudi Arabia and Kuwait, with over three million Indian citizens living and working in the region. CSP Today's recent webinar focused on the opportunities for Indian companies to further strengthen these ties and break into the solar markets in the Middle East.
During the webinar, Abdul Hanif Khan, head Of CSP Solar at India's largest solar EPC, Larsen and Toubro outlined some of the biggest challenges they are facing. L&T are already expanding their solar business in Kuwait and Saudi Arabia and Khan maintained that mobilizing the resources from India was difficult as it requires visa sponsorship amongst other things. He also revealed that following a bureaucratic system in some of the Middle Eastern countries is slowing down the progress of the solar industry.
Webinar participants voted in live industry polls and only 7% of participants voted that there are enough opportunities to remain in India, whilst the other 93% voted that they should be expanding their business to the Middle East.
To download the full 60 minute webinar recording and presentations, click here: http://goo.gl/YqkQLC.
Or contact Sarah Kingham at sarah(at)csptoday(dot)com for further details on the webinar.