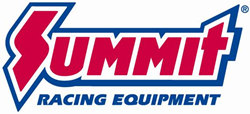 Tallmadge, OH (PRWEB) July 09, 2014
When it comes to vehicle ignition and electrical components—even distributors and magnetos—it's hard to do better than Taylor Cable. Summit Racing has added many new Taylor products, and now carries over 100 different types, including these:
SPIRO-PRO IGNITION WIRE SETS
Spiro-Pros are some of the most popular ignition wires ever. The 8mm wires have a special spiral core that has 10 times less resistance than standard resistor core wire. That means maximum spark energy at the plugs while protecting electronic ignitions, on-board computers, stereos, and pit radios. Other features include 100 percent silicone inner and outer jackets that provide heat protection up to 600 degrees F, low-profile silicone boots with grips, and double spring locking spark plug terminals for a secure connection.
409 PRO RACE 10.4MM IGNITION WIRES
The Pro Race wires are fat—but that's a good thing. Their 10.4mm size and a RFI-suppression spiral core deliver a big spark while protecting the sensitive electronics found on modern race cars. The wires have an inner fiberglass braid covered by a silicone jacket and an additional heat-treated fiberglass braid. Another silicone jacket covers everything, providing continuous heat protection up to 600 degrees F and 102,000 volts of dielectric strength. Other features include silicone Pro Boot spark plug bonded to the wires and vibration-proof, double spring locking plug terminals.
BATTERY BOX AND BATTERY RELOCATION KITS
Taylor makes some of the best battery boxes and relocation kits in the business. Designed to comply with NHRA requirements for cars that don't have a firewall between the cockpit and the battery, the Taylor kits have a steel tray that hard-mounts to the chassis with the supplied bolts. The tray is surrounded by a three-piece aluminum box that allows access without removing the battery. Other components include a welded battery hold-down, a choice of 1- and 2-gauge battery or 1-gauge welding cable with factory-crimped terminals, clamps, and necessary hardware.
DIRECT REPLACEMENT HEI DISTRIBUTORS
Taylor's direct replacement distributors provide misfire-free spark up to 6,500 RPM. They feature a CNC machined T-6 cast aluminum housing and a centerless ground shaft that reduces friction. The distributors have an adjustable vacuum advance and a factory installed, high-performance mechanical advance curve. Other features include a 50,000 volt coil, High output GM style 5.0 amp module, distributor cap and rotor with brass terminals to reduce crossfire and high RPM arcing, and a hardened steel gear machined to exact tolerances for a tighter mesh with the cam gear. Available for Chevy, Pontiac, and Olds V8 plus small block Ford.
SEE ALL TAYLOR CABLE PRODUCTS AT SUMMIT RACING
Summit Racing Equipment
http://www.SummitRacing.com
1-800-230-3030