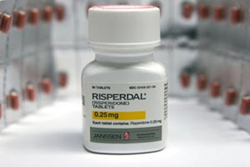 Learn more about filing a Risperdal lawsuit for gynecomastia, and turn to the law firm with the Experience, Dedication, and Trust you deserve. Contact the Oliver Law Group for your FREE case review by calling 800-939-7878 or visit www.legalactionnow.com
Chicago IL (PRWEB) July 07, 2014
The Oliver Law Group P.C. a harmful drug law firm, announces that they have launched a Risperdal lawsuit for Gynecomastia page in response to the growing Risperdal gynecomastia litigation underway in Pennsylvania state court. Court documents indicate that hundreds of Risperdal lawsuits have been filed in the Philadelphia Court of Common Pleas on behalf of men and boys who allegedly developed gynecomastia due to their use of the atypical antipsychotic drug.
(In Re: Risperdal Litigation, Case ID. 100300296)
According to the Risperdal lawsuits, gynecomastia is a condition marked by the excessive growth of breast tissue in men and boys. Symptoms of the disorder include:
Enlarged breasts
Pain and swelling in breasts
Nipple discharge
Galactorrhea (production of milk in the breasts)
According to the claims pending in Pennsylvania, Risperdal is an antipsychotic medication used to treat a number of psychiatric conditions in adults and children, including schizophrenia, bipolar disorder, and irritability due to autism. The drug was brought to market in 1993, but its first pediatric indications were not approved until 2006.
Plaintiffs in Risperdal gynecomastia lawsuit claims allege that use of the medication can increase the production of prolactin by the pituitary gland. Prolactin, a hormone related to breast development and lactation in women, is linked to the development of gynecomastia in men and boys. In some cases, plaintiffs are alleged to have developed breasts as large as D-cups, and required liposuction or mastectomy to remove excessive breast tissue. In addition to medical bills, the alleged victims of Risperdal gynecomastia claim that they endured severe pain and emotional distress as a result of the condition.
The Risperdal lawsuits also claim that Johnson & Johnson and Janssen Pharmaceuticals were aware of the link between gynecomastia and Risperdal, but concealed that knowledge from the public. Finally, plaintiffs allege that the companies promoted the off-label use of Risperdal in children long before such uses were approved in 2006.
According to The Oliver Law Group, Risperdal gynecomastia lawsuits are not the only legal claims to raise questions about the marketing tactics used by Johnson & Johnson and Janssen to drive sales of the drug. In November 2014, the companies agreed to pay $2.2 billion to settle charges of false marketing, and paying doctors and nursing homes kickbacks for promoting Risperdal and other drugs for unapproved use. Among other things, the government accused the drug makers of marketing Risperdal for unapproved pediatric uses. The agreement was one of the largest relating to healthcare fraud in the nation's history.
(justice.gov/opa/pr/2013/November/13-ag-1170.html?source=email_rt_mc_body&app=n, DOJ, November 4, 2013)
The Oliver Law Group is offering free Risperdal lawsuit reviews to men who allegedly suffered gynecomastia, including those whose excess breast growth required surgical intervention. Free legal evaluations are also being offered to families of boys who allegedly experienced excessive breast growth due to their use of Risperdal. To learn more about filing a Risperdal lawsuit, please contact our office by calling 800-939-7878 today.
About The Oliver Law Group P.C. And Filing A Risperdal Lawsuit for Gynecomastia
Oliver Law Group P.C. is a different kind of law firm. One that focuses on the needs of the injured first. A compassionate law firm dedicated to fighting for the rights of victims and their families, and doing everything necessary to ensure those rights.
The experience of a large firm. The 1-on-1 dedication of a small firm. A reputation built on trust.
Experience. Dedication. Trust. Oliver Law Group P.C.
If you would like to learn more about filing a Risperdal lawsuit for gynecomastia, turn to the law firm with the Experience, Dedication, and Trust you deserve. Contact the Oliver Law Group P.C. for your free case review by calling toll free 800-939-7878 today.
Contact:
The Oliver Law Group
(800) 939-7878
950 W University Drive
Suite #200,
Rochester, MI 48307