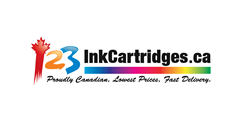 Montreal, Quebec (PRWEB) July 11, 2014
As a gesture to thank their customers for their continuing loyalty and support, local Canadian printer ink and toner cartridges online store, 123inkcartridges.ca, has announced a number of giveaways on their official Facebook page.
Some of the products include, but are not limited to amazing gifts such as speakers, laptop bags, keyboards, printers and other related items. The company also plans to focus on customer feedback while giving these gifts away. They hope the giveaways will encourage customers to have good discussions about what products they like or dislike, so the company can act on it accordingly.
A representative of the company says, "We believe that giveaways like these add a lot more value to enhance the overall customer experience instead of the usual run of the mill discount coupons and sales."
123inkcartridges.ca continues to expand their inventory of ink and toner cartridges to meet the demands and requirements of all their customers in a cost-effective way. To ensure that all their customers have instant access to the best and the latest products, the company spends considerable time and effort researching and testing several brands of inkjet printer cartridges to offer the perfect solution for all printing needs.
About 123inkcartridges.ca:
123inkcartridges.ca is one of the fastest growing and leading online suppliers of high quality office, mobile related items, and smartphone gadgets at competitive prices in Canada. With its well-facilitated quality control and industry-recognized service and support centers, the company provides expertise and flexible business processes that enhance product features and minimize supply chain disruption. The company has built up its available inventory of quality accessories by negotiating low prices with suppliers. Its online catalog of over 10,000 of the best and latest products is available at http://www.123inkcartridges.ca.