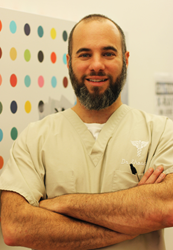 New York, NY (PRWEB) July 09, 2014
Dr. Steven Shoshany, a New York City-based chiropractor, has been treating patients with back, neck and wrist pain for over fourteen years. However, as a chiropractor, he is not limited to treating injuries and disorders of the spine, but can also help treat a whole range of issues that can affect the nervous system. Dr. Shoshany is known for offering the best and most cutting-edge treatments to make sure his patients have the ability to be treated quickly, effectively and for long term relief.
NYC chiropractor Dr. Steven Shoshany is proud to now offer the Epley maneuver (also known as the Epley's Maneuver) for treating Benign Paroxysmal Positional Vertigo (BPPV) at his Manhattan integrated practice. Dr. Shoshany has been working alongside some of the best specialists in their field, from physical therapists and massage therapists to pain management specialists who work together under one roof to develop a individualized program to ensure the best results while focusing on long term relief.
BPPV or Benign Paroxysmal Positional Vertigo for the most part is thought to be a result of debris that has settled within a compartment of the inner ear. The name given to this "debris" is otoconia, which are small crystals of calcium carbonate that originate in the part of the ear known as the utricle. The otoconia can migrate in to the canal system due to injury, disorders of the inner ear, infection or degeneration due to age, and cause potentially dangerous conditions like vertigo.
The Epley's maneuver is also known as the particle repositioning or canalith repositioning procedure. This maneuver was invented by Dr. John Epley. This highly specialized maneuver involves specific, sequential movement of the patient's head into four positions. The patient is made to stay in each sequential position for about 30 seconds. The recurrence rate for BPPV after undergoing the Epley's maneuver is reduced to roughly 30 percent at one year; however, sometimes second treatment may be necessary.
Dr. Shoshany has found this maneuver to be very effective in treating patients who suffer from BPPV. He also likes to combine chiropractic care with techniques like the Epley's maneuver to ensure that other problems with the spine aren't exacerbating the issue. He has been an innovator in combining modalities like Active Release Techniques (ART), Cold Laser Therapy, Kinesio Taping to help patients recover with long term results. He has strived to provide care that not only corrects the body's mechanical problems but also results in less time under care and cost of treatment over the long term. He has been a practicing chiropractor specializing in the treatment and prevention of back pain in NYC since 1999. For more information, visit http://www.drshoshany.com or call 212 645 8151.