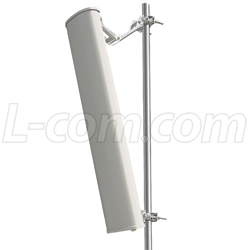 This antenna is streamlined, full featured and supports many installation options and applications.
North Andover, MA (PRWEB) July 31, 2014
L-com Global Connectivity, a designer and manufacturer of wired and wireless connectivity products, announced today that they have added a new product to their HyperLink DAS (Distributed Antenna Systems) Series Sectorial Panel Antennas. The HG72712P-120 is a professional grade 120 degree vertical polarized sector panel antenna that was specifically designed to help wireless carriers to quickly increase capacity while also deploying new spectrum in zoning challenged locations.
The HG72712P-120 combines several different frequency bands to allow multi-user options. Due to the antenna's internal combiner, this wide band antenna features one single N-Female connector. This simplifies installation as only one coax cable is required for the antenna configuration, opposed to separate coax cables for each frequency.
"This antenna is streamlined, full featured and supports many installation options and applications," said Kenneth Burgner, Product Manager. "It's also a cost effective alternative to similar antennas that are available on the market."
Additional features of the HG72712P-120 antenna include a durable UV resistant radome, all weather operation, wide bandwidth (698-960 MHz / 1710-2700 MHz) and heavy-duty steel mounting brackets.
For more information about this release, please contact:
Lindsey Cook, Internet Marketing Specialist
978-682-6936 x1148, pmcneil(at)l-com(dot)com
About L-com Global Connectivity
L-com Global Connectivity, a global leader in the manufacture of wired and wireless connectivity products, offers a wide range of solutions and unrivaled customer service for the electronics and data communications industries. The company's product portfolio includes cable assemblies, connectors, adapters, computer networking components, and custom products, as well as their HyperLink® brand of wireless products which include antennas, RF amplifiers, coaxial lightning and surge protectors, and NEMA rated enclosures. L-com's HyperLink® wireless products are designed for WiFi, WiMAX, SCADA, 802.11a/b/g/n/ac, RFID and Bluetooth applications. In addition to HyperLink® , L-com's other brands include MilesTek®, specialists in Military/Aeronautics connectivity solutions and Aiconics®, a leading manufacturer of electrical connector products. Trusted for over 30 years, L-com, which is headquartered in North Andover, MA, is ISO 9001: 2008 certified and many of its products are UL® recognized. For more information, please visit http://www.L-com.com/.