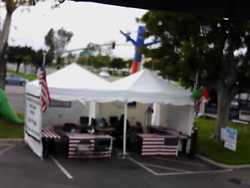 "Education of the consumer is one of our key missions" says CFO Adam Tolin
Santa Ana, CA (PRWEB) July 10, 2014
Thursday July 10th marks the grand re-opening of the Santa Ana Enrollment Center for Obamacare participants at 2900 S. Harbor Blvd #225 Santa Ana CA, 92704. For many people enrolling into the new healthcare marketplace is difficult task. At the Santa Ana Enrollment Center the state licensed and certified enrollment agents make the seemingly insurmountable task a simple ten to fifteen minute process. The re-opening has been due to the continued demand of consumers who simply need help navigating healthcare reform. Many consumers were not able to get through on the coveredca.com website during the enrollment period and while others were unaware there was a deadline of April 15, 2014 to begin with. There is an opportunity to qualify for health coverage even though the April 15th deadline has passed. For example low income, changing residence, losing health coverage are all examples of reasons someone may be able to apply.
"Education of the consumer is one of our key missions" says CFO Adam Tolin who launched the re-opening. "People are extremely confused and without the help of a professional this is a difficult and tedious process we help simplify. Educating the masses has proved fulfilling as we have seen numerous consumers come back to us because of the assistance we were able to provide them. People need help and we have proven ourselves as the resource in our community regarding the new healthcare laws." At the enrollment center the state certified agents help consumers understand the requirements to qualify and also help direct consumers to what plans might be best for them and their families.
About Quote Selection - A private insurance firm that provides individuals with a variety of health insurance options to choose from. Predominantly working within the healthcare reform arena due to the massive demand from consumers that are shopping for new coverage.