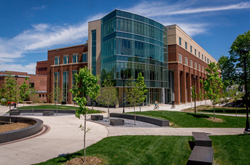 Among Centennial Hall's most dramatic design features are the building's multi-story, glass corners that offer light-filled, social interaction spaces during the day.
Eau Claire, WI (PRWEB) July 10, 2014
The new, $44.5 million Centennial Hall has opened on the campus of the University of Wisconsin (UW)-Eau Claire. National architecture and engineering firm SmithGroupJJR partnered with La Crosse, Wisconsin-based River Architects to design the 182,000-square-foot building.
Centennial Hall houses the College of Education and Human Sciences and consolidates teacher education that was previously split among three buildings dating back to the 1950s. It is the first new academic building on the UW-Eau Claire campus in more than 30 years.
"SmithGroupJJR and River Architects worked extraordinarily well together to create a beautiful and functional structure," said Dr. Gail Scukanec, dean of the UW-Eau Claire College of Education and Human Sciences. "The new Centennial Hall allows for greater operational efficiencies and greater collaboration."
The four-story building, located between Schneider Hall and Zorn Arena in the central campus mall area, also houses the Departments of Education Studies, Special Education, English, Languages and select student support services. Major spaces are dedicated to distance education, active learning classrooms, teacher education methods labs, general labs and open study areas, along with a total of 165 offices. Noteworthy are Centennial Hall's 19 general assignment classrooms – ranging from one 160-seat to five 45-seat rooms – that offer significant new classroom space for use by the entire campus.
Students have a variety of choices for their collaborations. Options include informal "living room" spaces scattered throughout the building, ranging from quiet, four-student nooks to a bustling, multi-story cyber café with views of the Chippewa River, which runs through the campus and inspired the building's playful, undulating south façade.
Design features nighttime presence, glass artistry honors the Hmong people
With its brick and stone exterior, Centennial Hall was designed to complement the campus' oldest building: the circa-1916 Schofield Hall, which it faces from across the quad. The new building also blends harmoniously with the new Davies Student Center and venerable Schneider Hall.
Among Centennial Hall's most dramatic design features are the building's multi-story, glass corners that offer light-filled, social interaction spaces during the day.
"As night falls, the glass corners act as beacons of light, earning them the nickname of 'lanterns,'" said Coty Sandberg, LEED AP BD+C, SmithGroupJJR project designer.
The design team maximized the amount of natural light drawn deep into the building to provide a bright indoor environment to its users. In addition to the building's "lanterns," designers strategically located windows to allow all public corridors outside views at the end. A rhythm of tall windows and glassy, multi-height spaces are prominent throughout the building.
According to Scukanec, one of Centennial Hall's more beautiful features is the pattern etched into the large glass windows on the building's southwest corner. The design team created the custom frit pattern to honor the Hmong people, an Asian ethnic group whose roots originate in the mountainous regions of China, Vietnam, Laos and Thailand. The Hmong have an important presence in the Eau Claire area.
"This architectural integrated artwork is a leaf pattern, a symbol for life in some cultures, including the Hmong culture," Scukanec said.
Centennial Hall is targeting LEED-NC Silver equivalency. Sustainable design features include optimal building orientation, low-E glazing, energy recovery and occupancy sensors. The building is designed to operate 30 percent more efficiently than current energy codes.
Leading the design of Centennial Hall was the Chicago office of SmithGroupJJR, which provided conceptual design, schematic design, sustainability consulting, design development and construction documents. The general contractor was Miron Construction, Neenah, Wisconsin.
River Architects, Inc. (http://www.river-architects.com), located in La Crosse, Wisconsin, is a collaborative architecture firm practicing in the tri-state area of Wisconsin, Minnesota and Iowa. Formed in 1981 and managed by two architects, Valentine J. Schute, Jr., AIA, and Michael W. Swinghamer, AIA, River Architects focuses on projects in six distinct studios: historic, education, religious, residential, commercial and civic. The firm's design work can be seen throughout the University of Wisconsin System on five of the 13 university campuses. Among River's completed campus projects is UW-La Crosse's LEED Gold Centennial Hall, a 188,000-square-foot academic building located at the center of the campus.
SmithGroupJJR (http://www.smithgroupjjr.com) is a recognized integrated design firm, ranked Top 10 in the U.S. by Architect, the magazine of the American Institute of Architects. Notable projects recently completed include the $22.8 million Argonne National Laboratory Advanced Protein Crystallization Facility in Argonne, Illinois. The $95 million Electrical and Computer Engineering (ECE) Building for the University of Illinois at Urbana-Champaign is slated to reach completion summer of 2014, and the $109 million outpatient facility for Advocate Illinois Masonic Medical Center in Chicago will reach completion in spring 2015. A national leader in sustainable design, SmithGroupJJR has 353 LEED professionals and 107 LEED certified projects.
River Architects and SmithGroupJJR will team up again on the UW-La Crosse Science Lab Building project, a $64 million science building that will feature state-of-the-art labs, classrooms and office space for life and physical sciences.