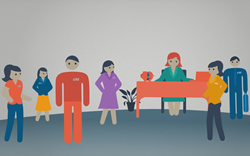 Santa Barbara, Calif. (PRWEB) July 10, 2014
On July 9th, the Unemployment Services Trust (UST) released its first ever animated video short. As a part of UST's ongoing efforts to educate nonprofits about the cost-saving alternative exclusively available to those with a 501(c)(3) tax status, the video will be shared with thousands of nonprofits.
Watch the animated video here.
About a minute long, the video reveals how more than 2,000 nonprofit employers with 10 or more employees have saved up to 60% on unemployment costs and reduced time spent on HR after joining the UST program.
By developing a highly focused repertoire of services—including an expert HR Hotline and Resource Library, and an expert claims management system with a secure online claims dashboard—UST helped members save $32,598,054 in mitigated unemployment claims last year.
Last month an additional $8,762,873 was returned, in cash, to participants that had an overall positive unemployment claims experience in 2013. Altogether this represents more than $43 million in claims savings, audited state returns, and cash back for members last year.
To learn more about the UST program for 501(c)(3) employers, visit http://www.ChooseUST.org or call (888) 249-4788 to speak with an Unemployment Cost Advisor.
About UST: Founded by nonprofits, for nonprofits, UST is the largest unemployment trust in the nation, providing nonprofit organizations with 10 or more employees a safe, cost-effective alternative to paying state unemployment taxes. UST has partnered with 80 state and national nonprofit-based associations to teach their members about their unemployment insurance alternatives. Visit http://www.ChooseUST.org to learn more.