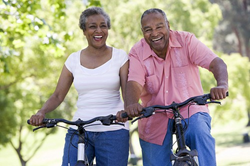 Incontinence affects not only one's health, but also can cause stress, depression, isolation and even financial difficulties.
Neenah, WI (PRWEB) July 09, 2014
According to a report published in the June edition of the U.S. Centers for Disease Control's Vital and Health Statistics, more than 50 percent of older Americans experience urinary or bowel leakage. According to a lead researcher and statistician at the CDC's National Center for Health Statistics, about one-quarter of those affected experienced moderate to very severe urinary leakage and about 8 percent had moderate to very severe bowel leakage, as reported by Gannett.
"Incontinence affects not only one's health, but also can cause stress, depression, isolation and even financial difficulties," says Lynn Wilson, Founder of The CareGiver Partnership, a national online retailer of incontinence products and other home health care supplies. "It's just as important to us that we support caregivers and seniors emotionally and socially as it is to offer the hundreds of different incontinence products we carry."
Wilson says The CareGiver Partnership is a virtual one-stop shop for products, resources and support:

Seniors and caregivers who want to learn more about incontinence, aging in place and more have free access to more than 1,200 easily searchable articles on The CareGiver Partnership blog. Wilson says it's one of the most heavily read blogs by family caregivers, and it's in large part because it's known for fresh, frequently updated content with no advertising.
The Caregiver Resource Libary is home to more than 1,500 links to useful resources in one convenient place. Resources include non-profits, government and health care organizations, home care services, product information, and financial and legal information important to caregivers.
Those seeking an online support community will find more than 12,000 followers on The CareGiver Partnership's Facebook, Twitter and Pinterest pages. There's something for everyone, from conversations with like-minded individuals to caregiver health tips, daily mediations to prevent burnout and much more. Links to these communities are found on The CareGiver Partnership's home page.
Customers buying incontinence products for the first time waste an average of $130 trying products before finding what they need. To help customers save time, money and frustration, The CareGiver Partnership provides a free online Incontinence Product Finder, where customers easily can sort through more than 650 products in seconds. Customers also can try samples before they buy, paying only a minimal shipping cost.
"By combining our Incontinence Product Finder with our 'Try Before You Buy' sample service, we're providing caregivers with tools to help avoid the costly mistake of buying incontinence products that don't meet their needs," says Wilson.
Those with questions also have free access to The CareGiver Partnership's team of knowledgeable Product Specialists, all of whom are current or former caregivers themselves. Calls usually are answered by the third ring by real people based in Neenah, Wis. The customer service number, available Monday through Friday, 9 a.m. to 4 p.m. Central Standard Time, is 1-800-985-1353.
The CareGiver Partnership is a national direct-to-consumer retailer of home healthcare products for incontinence, diabetes, nutrition support and more. In its eighth year of providing products and services that help caregivers and loved ones maintain personal dignity, the company also offers an online library of more than 1,500 family caregiver resources and personal service by experts in caregiving. Call 1-800-985-1353 or visit online at caregiverpartnership.com.