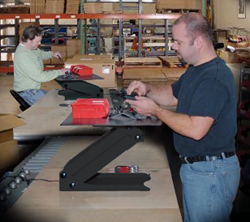 A differentiating benefit that the deal brings to Vestil MFG is the chance to offer sit/stand industrial solutions to its customers.
Burnsville MN (PRWEB) July 10, 2014
HealthPostures (https://healthpostures.com), an innovative designer and manufacturer of office and industrial solutions, has announced that is has formed a new business partnership with Vestil Manufacturing (MFG) Corporation. The partnership authorizes Vestil MFG to serve as a dealer of HealthPostures' industrial products. HealthPostures approved the deal, in part, because Vestil MFG is a highly respected leader in the manufacturing and distribution of industrial products. The deal also gives HealthPostures the opportunity to expand its presence in the industrial market.
Top selling HealthPostures' products Vestil MFG can stock and sell include the 6450 TaskMate EZ Surface, the 5000 Stance Move, the 6252 Surface Taskmate and the 5010 Stance Move Seat. Clients the products are developed for include automotive companies, metal shops, defense organizations, equipment manufacturers and warehouses. Prior to becoming a HealthPostures' dealer, Vestil MFG specialized in industrial products such as scissor lift tables, hydraulic elevating carts, pallet trucks, electric and manual stackers and hand winch lift trucks.
As noted at its official website, Vestil MFG is committed to "aggressively improving and expanding our product lines daily." As the company continues to grow its product line, it is also growing its warehousing and distribution space. The company's executives share at their official website that, "We have expanded our facilities and added storage space in order to keep our most popular products in stock for shipment in 48 hours or less."
A differentiating benefit that the deal brings to Vestil MFG is the chance to offer sit/stand industrial solutions to its customers. For starters, the TaskMate EZ Surface reduces pressure that's placed on the body as workers at industrial plants transition from prolonged periods of sitting to standing. Heavy duty steel construction extends the lifespan of the TaskMate EZ Surface. Regarding the 5000 Stance Move, the ergonomic product is the only three position, ergonomic sit/stand industrial solution on the market.
Shipping of HealthPostures' products will be handled at Vestil MFG's central mid-west shipping facility located in northeastern Indiana. HealthPostures' products are used primarily to allow industrial and office workers to have increased mobility, improved energy levels and better health. Several of the ergonomic company's products are one-part designs, eliminating the need for dealers and/or customers to assemble the products. HealthPostures has dozens of offline and online dealers, who like Vestil MFG, are presently headquartered in the central part of the United States.
About HealthPostures
HealthPostures LLC (https://healthpostures.com) builds industrial, rehabilitative and ergonomic equipment that helps people in office and industrial environments to stay healthy while they work. The firm has been designing and manufacturing ergonomic sit stand solutions since 1996. Part of the company's mission is to "strive to provide quality products that will help transform your sedentary life so you have a healthy way to work." Industrial and office solutions sit stand products Health Postures designs and manufactures include dual monitor sit stand work stations, adjustable mouse stands, dual monitor arm accessories, Stance move seat extensions, industrial surface Taskmates and Stance Move chairs.
Contact:
HealthPostures LLC
14310 Ewing Avenue South, Suite 100
Burnsville, MN 55306
800-277-1841
https://healthpostures.com
About Vestil Manufacturing Corporation
Vestil Manufacturing Corporation (http://www.vestilmfg.com) has been providing manufacturing and distribution service to the material handling industry for over 50 years. In addition to providing ergonomics solutions to its customers, Vestil Manufacturing offers dock equipment, drum handling equipment, fork truck attachments, packaging equipment, storage solutions and protective barriers. The company's warehousing and manufacturing facility exceeds 500,000 square feet. Vestil Manufacturing's product line consist of over 5,000 different industrial solutions.
Contact:
Vestil Manufacturing Corporation
2999 North Wayne Street
Angola, IN 46703
260-665-7586
http://www.vestilmfg.com/