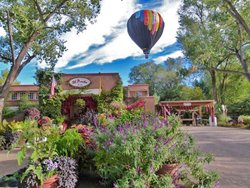 Albuquerque, NM (PRWEB) July 09, 2014
El Pinto Restaurant is being sought as a dynamic location for an authentic new reality show showcasing the Salsa Twins. The Twins are identical twin brothers John and Jim Thomas, owners of El Pinto Restaurant and Salsa Company, located in Albuquerque, New Mexico. Media Meld Studios with offices in New York and Los Angeles along with Smart Skirts Entertainment from California are in agreement to produce the show.
El Pinto and the Salsa Twins were sought out from over 950,000 possible restaurants across the U.S. The unique location comprised of the largest New Mexican Restaurant in the world, engaging identical twin bachelor brother owners, coupled with a manufacturing facility producing 25,000 jars of salsa daily, makes for a dynamic opportunity. The backdrop is the inspirational beauty of New Mexico: from green chile fields to the south, to the white capped mountains in the north, to the blue summer skies of the North Valley of Albuquerque where El Pinto is located.
"Few understand until they see on TV the hard work of small business in America, from delivering organic food to the restaurant table to taking products to the grocery store shelf across the nation," explains Salsa Twin John Thomas, co-owner.
Salsa Twin Jim Thomas explains, "El Pinto is a story of American ingenuity within a hispanic family with roots deep in the food business that stretch back 80 years to old Mexico." The growth of El Pinto through the work of dedicated staff expanding from one small room with a few seats along original Route 66 in rural New Mexico to over 1,000 seats in addition to the manufacturing facility producing nationally distributed salsa is a study of determination that continues.
El Pinto Restaurant and Salsa Co. continues to expand in its 52nd year with an emphasis on serving nutritious, locally raised, and organic foods. El Pinto Restaurant has grown from a few tables in one room started by John and Jim Thomas' parents, to become the most famous restaurant in New Mexico with beautiful patios, natural wood burning fireplaces, and healthy New Mexican cuisine. El Pinto Salsa has recently expanded with the addition of the convenient single serving cup which reduces product waste and increases consumer satisfaction. The restaurant and salsa manufacturing facility are co-located on property in the North Valley of Albuquerque, New Mexico.
About El Pinto Restaurant & Salsa Co:
Established 52-years ago, El Pinto is a quintessential icon for New Mexican cuisine. Conveniently located in the North Valley of Albuquerque just off I-25, the serene patios located under beautiful cottonwood trees provide an iconic experience. El Pinto is known nationally for its fire-roasted green chile and fresh flavorful salsa distributed across the nation in local grocery stores. The salsa and green chile factory is located on the same grounds as the restaurant. For an authentic taste of New Mexico, visit El Pinto for its fresh iconic food, traditional margaritas, and award winning chile. http://www.elpinto.com
About Media Meld Studios:
Media Meld Studios is a full fledged production company that develops, creates and produces original content for television, film and digital platforms. Founded in 2009, The Media Meld team has a diverse combination of over 100 years in media experience including; award winning film, Emmy-award winning television, best selling books, ground breaking documentaries and cutting edge Internet programming. Storytellers, Media Meld Studios is committed to developing outstanding programming that entertains, enlightens and inspires. Media Meld Studios is both Los Angeles and New York based. http://www.mediameldstudios.com
About Smart Skirts Entertainment:
Smart Skirts Entertainment was formed in 2008 by the creative mind of Tanya Welk along with Debra Stern and Andrea Stevens. Smart Skirts creates and develops programming which includes; reality television concepts, dramatic series and made for television films.