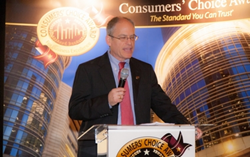 'Cincinnati presents the Consumers' Choice Award with a wonderful opportunity. We look forward to promoting the city's finest businesses that merit this prestigious recognition,' states Jeff Chernoff, President of the Consumers' Choice Award.
Atlanta, Georgia (PRWEB) July 09, 2014
The Consumers' Choice Award, which identifies and promotes customer service excellence in local markets, has now launched in Cincinnati, Ohio. A T.V. campaign bolstered by digital marketing and print ads is encouraging the area's residents to vote for their city's favorite businesses. A website, VoteCincy.com, allows individuals to vote for local businesses across various industry sectors. The business categories include Home Services, Specialty Services, Automotive, Retail, and Business to Business Services.
Consumers are asked to consider criteria such as service, professionalism, and value when considering their choices. In addition to the open vote, a sizable respondent population will be provided by Survey Sampling International (SSI), a polling company with expertise in consumer studies. Winning companies will be based on the combination of votes from the SSI panel and residents going to the votecincy.com website.
The TV spot publicizing the voting site, VoteCincy.com, is being aired on WCPO, the Cincinnati ABC affiliate. Voting will end on August 8, 2014. Winning companies will be invited to a Winners' Breakfast in Cincinnati late next month. A venue and date has not yet been announced.
About The Consumers' Choice Award:
Established in 1987, the Consumers' Choice Award® identifies and promotes businesses that deliver customer service excellence. The Consumers' Choice Award® has retained a leading independent research firm to conduct surveys in U.S. cities; Columbus, Atlanta, and Dallas –Ft. Worth. The winners are determined by consumers and not by a panel of judges. In Cincinnati a new methodology has been employed which utilizes a poll open to the public in addition to the registered respondent panel provided by the polling company. The survey covers a broad range of categories of interest to both the public and business communities. Its purpose is to publicly identify those establishments that have been voted by consumers as being their choice for excellence. The Consumers' Choice Award® is the most prestigious tribute to local businesses that serve their communities well. The program is encouraged by all levels of government and by business leaders. Find out more about The Cincinnati Consumers' Choice Award by visiting http://www.consumerschoiceawardcincy.com.