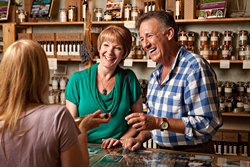 We are happy to share eight of Old Town Temecula's greatest charms, announced Kimberly Adams, president and CEO, Visit Temecula Valley.
Temecula Valley Southern California Wine Country (PRWEB) July 15, 2014
"Downtown Old Town Temecula is gracious, friendly Temecula Valley Southern California Wine Country's fun, carefree, pedestrian-friendly, dining-shopping-culture-and-entertainment district. We are happy to share eight of the neighborhood's greatest charms including Temecula Olive Oil Company, wine tasting, patio and porch dining, the Luiseño basket-artistry inspired fountain, specialty shopping, EAT Marketplace picnic at Town Square Park, art galleries, and live music," announced Kimberly Adams, president and CEO, Visit Temecula Valley (formerly the Temecula Valley Convention & Visitors Bureau). "Wrap midweek getaways around special events and linger through less-busy weekdays to enjoy Temecula Valley resorts-hotels-and-motels' special Sunday-through-Thursday, better-than-weekend nightly room rates, outdoor adventures, seasonal restaurant menus, artisan foods, and wineries' new releases." Casual, picturesque Temecula Valley includes Southern California Wine Country, Old Town Temecula, and Pechanga Resort & Casino; and is located 60 minutes from San Diego, Orange County, and Palm Springs; 90 minutes from Los Angeles and Hollywood.
1-Temecula Olive Oil Company
Highly regarded olive growers and olive oil producers, Temecula Olive Oil Company garners an exceptional following for sustainable practices and is a favorite inspiration for entertaining. The company's original retail shop and tasting room feature fresh, pure, flavorful, 100% Southern California, 100% extra virgin olive oil. At the complimentary tasting bar, guests taste fresh Temecula olive oil as nature intended. Hand-blended, limited editions include oils like Fresh Basil, de Luscious Lemon, and Citrus Reserve (made with fresh blood oranges); balsamic vinegars like Pomegranate, Vanilla and Fig.
2-Wine Tasting Rooms of Old Town Temecula
Swirl, sniff, and sip quality, award-winning, premium varietal, and proprietary blended Temecula Valley Southern California wines in Old Town tasting rooms. Temecula Valley small-lot estate producer, Curry Vineyards tasting room is casual and friendly. Gracious Fazeli Cellars celebrates a rich cultural heritage and award-winning wines. Lorimar Loft is modern yet rustic and popularly associated with distinctive fusion of wine and art.
3-Patio and Porch Dining in Old Town Temecula
Dining amidst Old Town's energy, hustle, and bustle, is fun and exciting. Palumbo's outdoor patio typically thrives with lively conversation; freshly house-made southern Italian cuisine and Temecula Valley wines share the spotlight. Mad Madeline's Grill hosts a popular wrap-around covered porch adjacent Old Town Front Street; also popular, award-winning hamburgers, cheeseburgers, fresh-cut fries and old-fashioned malts. In a distinctive Main Street bungalow, the PUBlic House gastro pub's elevated, covered front porch overlooks the heart of Old Town; the menu includes fare like filet mignon with blue cheese pecan crust.
4-Luiseño Basket-Artistry Inspired Fountain
At Temecula Civic Center's base, the much-admired Luiseño basket-artistry inspired fountain is Old Town's most popular photo opportunity. Water flows from granite walls into the mosaic-tile fountain bowl that resembles the exceptional weave and textural design of Luiseño grass-woven baskets.
5- Old Town Temecula Specialty Shopping
Intriguing shopping in 60+ individually owned specialty stores is year-round. Temecula Lavender Company features pure, small-batch products; testers are often available for items like lavender lotion. Old Town Spice & Tea Merchants features fine spices, herbs, blends, sea salts, and loose teas; different samples are daily. Old Town Root Beer features 500 nostalgic and novelty sodas. Old Town Sweet Shop has fresh fudge, truffles, hand-scooped ice cream, Jelly Bellys® and retro candy. Gardener's Cottage features whimsical items (fairies, frogs, rabbits, gnomes, dragonflies). Granny's Attic has collectibles and antiques.
6-EAT Marketplace Picnic at Town Square Park
Slow Food-champion, EAT Marketplace is ideal for food-to-go. Let the fresh, locally sourced, seasonal menu inspire then proceed to Town Square Park with a view of Old Town Temecula, untouched chaparral-covered hills, and the bridge over the river on its way to the Pacific.
7-Old Town Temecula Art Galleries:
Gallery at The MERC; Art Gallery at Temecula Civic Center
Intimate venues feature local artists' exceptional works.
8-Live Music in Old Town Temecula
The MERC features jazz, country, classical, and cabaret. Front Street Bar & Grill's courtyard stage hosts music (Friday-Saturday-Sunday); Gambling Cowboy (Friday-Saturday); PUBlic House (Friday- Saturday-Sunday); wine tasting rooms, Curry, Fazelli, and Lorimar (Friday-Saturday). Hot Summer Nights bands (alternative rock, beach, blues, country, reggae, tribute) are Fridays (July 11-August 29).
*Information is believed accurate but is subject to change.
ABOUT TEMECULA VALLEY AND VISIT TEMECULA VALLEY
With natural gifts of climate and geography (Pu'eska Mountain, Rainbow and Santa Margarita Gaps), Temecula Valley is recognized for scenic vineyards, award-winning wines, and gracious wineries as Temecula Valley Southern California Wine Country. Home to three-time California Golden State Winery of the Year, South Coast Winery, the boutique destination also includes Downtown Old Town Temecula, Pechanga Resort & Casino, and Temecula Wine Country Golf Trail.
Visit Temecula Valley (formerly Temecula Valley Convention & Visitors Bureau), regional tourism marketing organization and resource for visitors, is online at VisitTemeculaValley.com; Facebook, "Temecula Valley Southern California Wine Country"; Twitter, @Visit_Temecula; and FilmTemecula.com. Temecula Valley Visitors Center is located in Old Town Temecula; 888/363-2852, 951/491-6085.
###