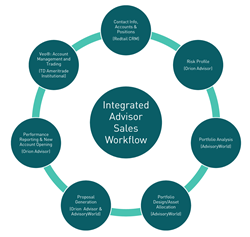 Minneapolis and Los Angeles (PRWEB) July 10, 2014
"We looked at virtually every comparable application available in the marketplace and AdvisoryWorld has an incredible set of robust features and is extremely easy to use which will make an immediate impact with our advisors. We are very excited to be working with AdvisoryWorld -- they are very knowledgeable, a great partner, and a perfect alternative to Morningstar," said Dan Hunt, CEO, Redhawk Wealth Advisors.
SCANalytics will enable advisors to provide clients robust portfolio research reports and proposals along with model allocation and performance analysis. The application will significantly enhance the reporting and analysis for advisors to meet the needs and high expectations of their most demanding clients.
SCANalytics is an intuitive application that features seamless integration with leading portfolio management and CRM applications. Redhawk advisors will have access to integrated sales and service workflows featuring the SCANalytics application with the following solution providers:

TD Ameritrade Institutional (Veo®: Account Management and Trading)
Orion Advisor Services (Portfolio Management, Risk Profiling, New Account Opening)
Redtail (CRM)
"We're excited to be partnering with Redhawk and the other integration partners, to provide a scalable and efficient advisory process," said AdvisoryWorld President Michael Wilson. "I'm looking forward to speaking at their conference June 18-20 and having a chance to introduce SCANalytics to the Redhawk advisors."
About Redhawk Wealth Advisors
Redhawk Wealth Advisors, Inc. is an SEC Registered Investment Advisor ("RIA") firm based in Minneapolis, Minnesota. The firm provides wealth management, retirement plan services, and practice management services to independent advisor representatives and their clients. To learn more, visit http://www.redhawkwa.com.
About AdvisoryWorld
Founded in 1987 by Philip Wilson, AdvisoryWorld is a leading provider of asset allocation, multi-security modeling, optimization, hypotheticals, cash-flow analysis and security and portfolio analysis software to investment professionals including Registered Investment Advisors, Wealth Managers, Broker Dealers, TAMPs, Banks and Insurance Companies.
The company delivers its financial tools through software, remotely as web services and customized as professional services. The portfolio analysis software and investment analysis software and technology enable RIAs and other investment professionals to optimize portfolios using the efficient frontier as well as analyze risk metrics and manage risk by using several Modern Portfolio Theory statistics such as Alpha, Beta, R2, Sharpe Ratio and Correlation. Learn more at http://www.AdvisoryWorld.com.