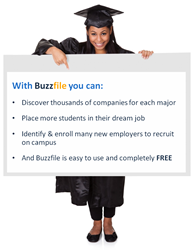 The value to students and college career services professionals is clear.
New York, NY (PRWEB) July 09, 2014
Buzzfile, the most advanced company information database, has started an initiative to map all college majors to the companies and industries that primarily hire graduates in those majors, and offer this product to colleges and universities free of charge. Buzzfile launched this initiative at the 2014 NACE Conference with 70 majors. Based on the overwhelming response received from career service professionals, Buzzfile has expanded coverage by an additional 50 majors, bringing its total coverage to 120 majors. Majors are organized into five categories – Arts & Sciences, Business Management & Marketing, Engineering, Health Sciences, Legal Services – and include popular majors as well as highly specialized majors that have historically been difficult to place.
With the Buzzfile widget, college career services professionals can improve their placement rate by enabling more students to discover and research likely employers. Students can find the exact companies they are looking for, discover unlisted job opportunities, and enhance their chance of finding a job or an internship that meet their expectations.
"We launched the Buzzfile widget to hundreds of college and university career services professionals at the 2014 NACE Conference & Expo and received extraordinary interest from career service and employer relations professionals alike," said Aziz Akin Buzzfile founder and president. "The value proposition to both students and to college career service professionals in terms of identifying employers was clear. The most common feedback was 'I have never seen anything like it', 'I can't believe it is free', 'I am going to add this to our site as soon as I get back.'"
About Buzzfile:
Buzzfile is a comprehensive company information database and LIST builder. In addition to easily incorporating the Buzzfile widget into their websites, colleges and universities can utilize the interactive search engine and smart filters to search the database of 18 million U.S. companies and thousands of industries to compile, save, and share highly-targeted prospect lists.