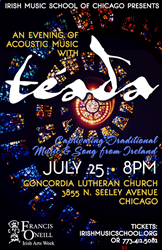 Chicago, IL (PRWEB) July 09, 2014
The Irish Music School of Chicago presents Téada, one of Ireland's leading traditional bands, in a special acoustic concert on Friday, July 25, 2014 at 8pm at Concordia Lutheran Church. This is their first Chicago appearance since the release of their critically acclaimed new album 'Ainneoin na stoirme / In spite of the storm'.
One of Irish traditional music's leading exponents, Téada is driven by a fascination for the timeless, expressive force of music inherited from previous generations of musicians. Téada has toured extensively since 2001 performing in theatres and festivals all over Europe, the US, Canada, Australia, the Middle East, Malaysia, Mexico, Russia, and Africa. Fresh off their Japan/Taiwan tour where they played to over 40,000 fans, Téada brings their interesting and playful arrangements of various types of tunes to a Chicago audience in an intimate and beautiful setting that is sure to delight.
The Acoustic Evening with Téada is part of Francis O'Neill Irish Arts Week presented by the Irish Music School of Chicago from July 21-27, 2014. The week provides a unique learning opportunity by bringing master traditional Irish musicians to Chicago to teach the many facets of traditional Irish arts to children and adults. In addition to performing at the concert, the members of Téada join other talented traditional Irish musicians as part of the faculty at a Kids Day Camp (July 21-25) and Adult Program (July 22-27).
The Francis O'Neill Irish Arts Week cements Chicago's historic position as the stronghold of traditional Irish music. Named in honor of Captain Francis O'Neill, the Chief of the Chicago Police from 1901-1905, the week is dedicated to his legacy as the primary preservationist of traditional Irish music through his careful and prolific annotation of tunes. Without the work of Captain O'Neill, much of traditional Irish music would be lost to future generations of musicians.

Concordia Lutheran Church is located at 3855 N. Seeley, Chicago, IL 60618
Advance tickets are available at http://www.irishmusicschool.org/concerts.
Adult tickets: $25; Children and Senior tickets: $20
Additional questions can be directed to info(at)irishmusicschool(dot)org or (773) 412-5082.
About the Irish Music School of Chicago
The Irish Music School of Chicago is a leader in teaching traditional Irish music to students of all ages by utilizing the traditional methods of teaching by ear and telling the stories behind the tunes, and the significance of being part of a living musical community. As a not-for-profit organization, the Irish Music School is committed to maintaining the strong tradition of Irish music, song and dance, to involve more people in the community of Irish music, and ensure that this type of music does not disappear in Chicago and the United States.