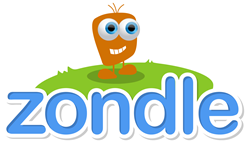 To succeed in the educational games market you have to have constant uptime and the robust VMware platform we have built gives zondle users continual access whether they're in Alaska or Australia
Glasgow, United Kingdom (PRWEB) July 09, 2014
Education platform company zondle is using cloud services from UK cloud company iomart to ensure its online games and other services can be used by teachers and children in classrooms around the world at any time of the day or night.
zondle has developed a platform which allows teachers to embed topics they want their students to practise within games which can then be played on mobile devices or computers in the classroom. zondle empowers teachers to make their students' learning experience more engaging and its developers have created more than 50 games which can be played in more than 40 languages.
iomart provides the scalable and flexible cloud services to support zondle using a cluster of VMware servers which enable the games to be published and accessed round-the-clock from any location with an internet connection. The results are then stored and fed back to the teachers and students to help consolidate the students' learning.
Ben Barton, CEO and founder of zondle, said: "The growth of zondle is phenomenal. We started out with around 60 users two years ago - now we're heading towards one million, with more teachers registering to use our platform every day, and we are now developing mobile apps and content for examination boards here in the UK. All of this has been driven by a reliable and highly available cloud platform which allows us to be online 24/7."
Earlier this year zondle was showcased at BETT, the world's leading educational technology show, by UKTI, the government organisation that helps UK business succeed in the international market.
Doug Lapsley, Chief Technology Officer for zondle, who began developing the platform in a caravan in the Highlands of Scotland, continued: "The aim of zondle is to be useful to teachers, who work in critical environments but often with flaky IT infrastructure. We have to do everything to ensure that zondle is always available, to make sure that we are the last website standing."
Bill Strain, Chief Technology Officer for iomart, said: "To succeed in the educational games market you have to have constant uptime and the robust VMware platform we have built gives zondle users continual access whether they're in Alaska or Australia. Data is fed back instantly and securely to the teachers and the students so they can consolidate the students' learning by analysing the results of the games they play."
iomart is one of the leading cloud companies in the UK and Europe and delivers compute, storage and network to thousands of customers from securely managed data centres at eight locations across the UK and a network of international PoPs.
To find out more about how iomart supports zondle view the video case study here: http://bit.ly/1tmo3u4.