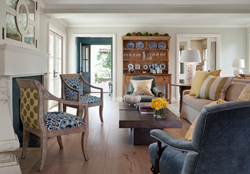 San Francisco, CA (PRWEB) July 10, 2014
Coupar Consulting Marketing Director Rachel Shahvar and internationally recognized interior photographer David Duncan Livingston will offer the first ever Interior Design PR Boot Camp on Wednesday July 23, 2014. Scheduled for 10am to 3pm, the seminar will be held at Coupar Consulting's Tête-à-Tête Lounge located in the SF Design Center. Interior Design PR Boot Camp covers often-overlooked elements of a successful public relations strategy, including industry secrets that help interior designers secure valuable digital and print coverage.
Interior Design PR Boot Camp includes digital brand positioning, crafting a PR pitch that gets results, photo styling trends for shelter magazines, producing a photo shoot, and more. The seminar features lecture time, small group sessions, personalized problem solving, a working catered lunch and snacks, and time for individual Q&A with Shahvar and Livingston.
Rachel Shahvar explains why she and Livingston are uniquely qualified to lead the Interior Design PR Boot Camp.
"I worked in digital media for six years, most recently as the Digital Marketing Director at CA Home+Design and 7x7 magazine before joining Coupar Consulting. Having worked extensively in editorial, I have unique insight to crafting a digital presence and PR pitch that gets results. Livingston is a perfect counterpart to my knowledge base, since his editorial style is often the clincher for print and digital coverage. He understands how to style a photo shoot to appeal to shelter mags, and his ability to craft a narrative through interior design photography is unmatched."
Day-long Interior Design PR Boot Camp is $275 for Tête-à-Tête or SFDC members, $300 for the general public.
http://bit.ly/interiordesignprbootcamp
About Coupar Consulting
Established in 2007, Coupar Consulting is a full-service business consulting firm exclusively for the interior design industry. They work with creative talent, helping turn a client's passion into a profitable business. Whether starting small or overwhelmed by growth, interior designers come to Coupar Consulting to strategize, build, manage, analyze, and design. Utilizing the latest technology platforms, they take a business's pain points and turn them into success stories.
###
If you'd like more information about the Interior Design PR Boot Camp, please contact rachel(at)couparconsulting(dot)com. If you'd like to sign up for the Interior Design Boot Camp, please go to http://bit.ly/interiordesignprbootcamp.