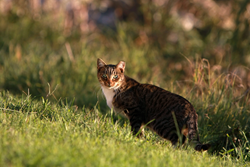 Bethesda, MD (PRWEB) July 10, 2014
Alley Cat Allies' sound fiscal management practices and commitment to accountability and transparency have earned it the coveted 4-star, highest rating from Charity Navigator, America's largest independent charity evaluator.
Of the thousands of charities evaluated, only one out of four earns all 4-stars—a rating designated as "exceptional" and representative of an organization that "exceeds industry standards and outperforms most charities in its Cause."
Charities are evaluated on 17 governance and ethical practices as well as measurements of openness. In 2011, Charity Navigator added a second dimension of accountability and transparency—which now accounts for 50 percent of the total evaluation—two values held in high regard by Alley Cat Allies.
"We are calling for transparency throughout the animal sheltering system," says Becky Robinson, president and founder of Alley Cat Allies. "We want states to require recordkeeping and reporting from their animal pounds and shelters including intake, adoption, and "euthanasia" (i.e. kill) rates, and for that information to be posted and available to the public on the states' websites. We hold ourselves to the same high standards we want for the animal shelter system—and that is affirmed by Charity Navigator's 4-star rating.
"Alley Cat Allies takes the responsibility of donors' contributions very seriously. We are grateful to our donors, and could not continue our important work of saving cats' lives without them."
In a letter to Alley Cat Allies, Ken Berger, president and chief executive officer of Charity Navigator wrote: "Receiving four out of a possible four stars indicates that your organization adheres to good governance and other best practices that minimize the chance of unethical activities and consistently executes its mission in a fiscally responsible way."
To donate to Alley Cat Allies, please visit http://www.alleycat.org/Donate.
More detailed information about Alley Cat Allies' Charity Navigator 4-star rating is available for free at http://www.charitynavigator.org.
###
About Alley Cat Allies
Alley Cat Allies is the only national advocacy organization dedicated to the protection and humane treatment of cats. Founded in 1990, today Alley Cat Allies has over half a million supporters and helps tens of thousands of individuals, communities, and organizations save and improve the lives of millions of cats and kittens nationwide. Its website is http://www.alleycat.org.