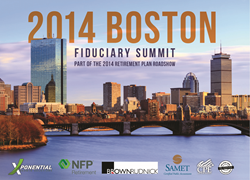 Boston, MA (PRWEB) July 15, 2014
The 2014 Boston Fiduciary Summit is a workshop that unites retirement experts with CFOs, HR directors, and business owners. The goal is to help plan sponsors reduce fiduciary risk, identify plan upgrades, and make better decisions that positively impact participants.
Mike Falcone, Vice President of the East Region at NFP Retirement™ (formerly known as 401(k) Advisors™), and his team of experts will host the event. They will cover key topics every fiduciary and employer needs to be focusing on. The event will be highlighted by a professional panel moderated by a local plan sponsor who will outline overcoming obstacles in the administration of the company's retirement plan. The summit will also feature both a Target Date Fund and Stable Value Fund panel, composed of senior portfolio managers that will discuss fund performance, best practices and industry updates.
Topics of discussion include:
1) Fee Disclosures and How to Benchmark Plan Costs
2) Selecting the Most Appropriate Target Date Solution
3) Understanding Stable Value Alternatives
4) Fiduciary Legislative & Regulatory Update
Guest Speakers:

Pam Basse – Senior Plan Consultant – NFP Retirement
Tim Black – Senior Plan Consultant – NFP Retirement
Lauretta Siggers – Human Resources Director – Cambridge College
David Rinehart, CFA – Senior Investment Analyst – NFP Retirement
Jim Hauser – Partner - Brown Rudnick
Jay A. Kessler, CPA – Co-Managing Shareholder – Samet & Company
Dick Fellows, JD, LLM – ERISA Compliance Specialist – NFP Retirement
Nancy Helt – Vice President, Retirement Policy – Fidelity Investments
Portfolio Managers from BlackRock, Columbia, JP Morgan, MFS, New York Life and Prudential
The 2014 Boston Fiduciary Summit is the 10th stop of the Retirement Plan Roadshow and will be held at The Boston College Club on July 17, 2014 from 11:00 a.m. to 2:00 p.m. (lunch will be served). The 2014 Boston Fiduciary Summit is approved for 3.0 CPE/CPA credits and 2.5 HRCI general credits. Seating is limited and local plan sponsors will receive priority registration. Additional details and registration information can be found here.