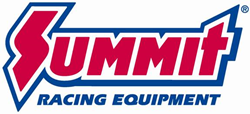 Tallmadge, OH (PRWEB) July 15, 2014
Drivers look at their steering wheel more often than any other part of their car, so Summit Racing offers 14 different GT Performance Steering Wheels to suit most every taste. Here are some of the latest styles we have available:
RETRO COBRA WOOD STEERING WHEEL
This 15 inch diameter wheel is inspired by the original steering wheel used in the infamous Shelby Cobra. The Retro Cobra features a laminated, walnut-colored wood grip with nine rivet inlays and polished aluminum spokes.
COMPETITION BELL STYLE STEERING WHEEL
The classic 1940s and 50s Midget or hot lakes racer steering wheel. Patterned after the "Bell Style" steering wheel, this 15 inch diameter wheel sports a flat dish design with a black rubber grip and four polished spokes.
COMPETITION TOGNOTTI STEERING WHEEL
This 15 inch diameter steering wheel looks a lot like GT Performance's Bell Rubber wheel, but look closer. It has straight-cut stainless steel spokes and a thick black foam grip. You can't lose choosing either one.
Summit Racing also has Installation Kits and Horn Buttons for all GT Performance steering wheels. The installation kits are CNC machined from 6061 billet aluminum and are available in polished or black anodized finishes. The billet aluminum horn buttons are available in a wide variety of styles.
SEE ALL GT PERFORMANCE STEERING WHEELS AT SUMMIT RACING
Summit Racing Equipment
http://www.SummitRacing.com
1-800-230-3030