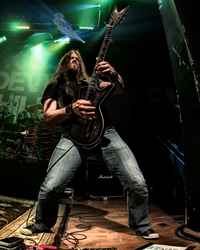 "Reunion Blues makes some badass bags." - Mark Zavon
Petaluma, CA (PRWEB) August 05, 2014
Reunion Blues, maker of fine quality instrument cases and gig bags officially welcomes guitarist Mark Zavon to their artist family. Mark Zavon is the guitarist and a founding member of the critically acclaimed hard rock band Kill Devil Hill. They released their second CD "Revolution Rise" in October of 2013.
The journey that led Mark to the formation of Kill Devil Hill was years in the making. After appearing in Guitar Player Magazine's "Spotlight" column in 1990, Mark recorded a CD with the band Scream Parade for Shrapnel Records. Mark then recorded several CDs with a funk/rock instrumental trio called JRZ System that he co-founded in 1994. He not only recorded and toured with Stephen Pearcy of Ratt, Mark was later asked to be the guitarist for Ratt. Mike Varney once said of Zavon's skills, "He conveys a strong sense of conviction in the notes he plays."
Look for Mark on tour with Kill Devil Hill in 2014.
Reunion Blues is proud to support Mark Zavon, and welcome him to their growing family of artists.
"Reunion Blues makes some badass bags." - Mark Zavon
For more information please visit us at http://www.reunionblues.com.