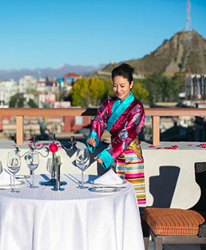 Lhasa, one of the best tourist attractions in the world, is a great place to enjoy a luxury vacation.
Lhasa,Tibet (PRWEB) July 13, 2014
Specialized in Tibet tour services, Tibet Vista launches Tibet luxury tour program to meet the rapidly increasing market demand. This program is expected to attract more high-end customers, who are eager to experience a luxury journey in Tibet. Different from the traditional sense of "luxury", Tibet Vista provides not only deluxe hotels, but also unique cultural experiences, the delicate tour arrangements, as well as specially selected tour packages based on different interests.
"In the past 14 years, we annually served over 1,000 foreigners," said Catherine Jing, the general manager of Tibet Vista. "About 10% of them were high-end tourists. The launch of Tibet luxury tour program enriches Tibet's high-end tourism products. We are confident to send more tourists to enjoy the sumptuous journey in Tibet."
"We offer luxury hotel accommodations in this program, especially the newly opened Shangri-La Hotel," Catherine said. "It is within walking distance to Potala Palace and Norbulingka Palace. In order to help customers acclimatize the altitude, Shangri-La offers an oxygen lounge (the first in Tibet)," she continued. "In addition, we also offer Tibetan traditional style hotels, for example, the Lingtsang Boutique Hotel. All suites are very spacious and in nice Tibetan designs. Its restaurant serves local Tibetan food as well as international cuisine. I'm sure our customers will have the best hotel experience in Lingtsang Boutique Hotel."
Unlike normal luxury tours, Tibet Vista also customizes special cultural tours for travelers to experience the most authentic Tibet: Thangka painting, traditional Tibetan food cooking class, etc.
"In Thangka painting tour, you will have the chance to study Tibetan painting, an intangible cultural heritage," Catherine said. "If you are a big fan of Tibetan cuisine, you wouldn't want to miss our cooking class tour. A Tibetan Mama will teach you how to make basic Tibetan food, such as Tsamba and Yak butter. You can enjoy your own hand-made food as well."
It is sometimes hard for customers with special interests to find suitable tour packages because normal group tours mainly focus on the most common attractions and travel routes. However, the luxury Tibet tour packages provided by Tibet Vista can meet the needs of every single traveler. "We often get inquiries from our customers, saying that they prefer a private and tailor-made tour based on their own requirements to enjoy the flexibility and freedom rather than joining in a group tour," said Catherine. "Now our Tibet luxury tour program will enrich your choices." This program offers family trekking tour, self-drive tour, wedding photography tour, etc. For more detailed tours, please see Luxury Tibet Tour Package.
"If you still can't find one suitable luxury tour, please contact us for tailor-made services. I'm sure you can always find what you need here," Catherine said.
About Tibet Vista
Tibet Vista (http://www.tibettravel.org), the top online Tibet tour operator, annually sends more than 2,000 individual travelers and over 100 tour groups to Tibet. It helps travelers to obtain the Tibet Travel Permit, book air/train tickets to Tibet and customize their tours.